French tackle: Onazi faces several months on sidelines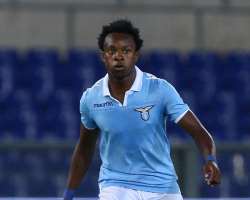 Lazio midfielder Ogenyi Onazi faces several months out with a fractured leg suffered in Nigeria's defeat to France at the World Cup on Monday.
The 21-year-old was stretchered off after a tackle from France's Blaise Matuidi during Nigeria's 2-0 defeat to Les Bleus in the last-16 tie in Brasilia.
Onazi was taken to a nearby hospital, and tests confirmed he has a fractured tibia and fibula in his left leg.
The Super Eagles star tweeted a photograph of his left leg in a cast and included a message that said, 'Thanks to everyone for your prayers, will be fine by his grace.
'God Bless Nigeria.'
Matuidi, the Paris St Germain midfielder who was only shown a yellow card for the tackle, has apologised to Onazi.
'I'm sorry,' he said to L'Equipe. 'I've not gone in to hurt him; I'm disappointed because I'm not a dirty player.
'I went into the (Nigeria) dressing room afterwards to apologise.'
Onazi, who is under contract with Lazio until June 2016 , made 29 Serie A appearances for the Biancoceleste in the 2013-2014 season.