Explosion hits Maiduguri market, 5 killed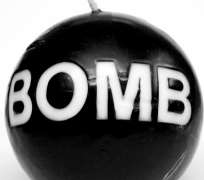 At least five people have been killed in an explosion at a market in Maiduguri, north-eastern Nigeria, a witness has told the BBC.
The explosives were reportedly hidden in a vehicle carrying charcoal.
No group has said it carried out the attack but Maiduguri is the epicentre of the violent campaign waged by militant group Boko Haram.
Earlier, the Nigerian army said it had broken up a Boko Haram cell linked to the abduction of 200 schoolgirls.
'A van loaded with charcoal and IED [improvised explosive device] exploded at Monday Market in Maiduguri this morning. The location has been cordoned,' the defence headquarters said on its Twitter account.
The vehicle exploded into a huge fireball, AFP news agency quotes a witness as saying.
The BBC's Habiba Adamu reports from the capital, Abuja, that a resident who visited the scene counted five bodies while another resident said the number of dead was higher.
The driver of the vehicle was believed to be among those killed or wounded, Reuters news agency reports.
Several vehicles had been damaged, it reports.
A van loaded with charcoal and IED exploded at Monday Market in Maiduguri this morning. The location has been cordoned. BBC