Most Admired Shopping Centre Advisory Company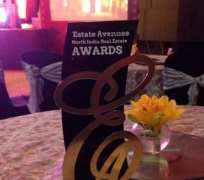 In the recently concluded North India Real Estate Seminar in Chandigarh by a media house 'Estate Avenues', Beyond Squarefeet, a boutique Mall advisory company was awarded the 'Best Shopping Mall Advisory Company (North India)'.
This recognition to Beyond Squarefeet comes after many such previous accolades and awards won by the company. Beyond Squarefeet is also a CRISIL certified 'SE-3A' company, a recognition which is rare in the Retail Real Estate sector.
Beyond Squarefeet, a start-up service provider in the Mall advisory & Mall management segment is an entrepreneurial venture of Mr. Susil Dungarwal. Within a short period of less than 5 years, Beyond Squarefeet is today a leader in its offering of end-to-end Mall development business. Beyond Squarefeet currently handholds over 22 projects spread across 13 million sq. ft. in 5 countries such as India, Iran, Nigeria, Nepal & Qatar.
Upon receiving the award Mr. Susil Dungarwal, Chief Mall Mechanic - Beyond Squarefeet says 'While such recognition is a great motivation to the entire team of Beyond Squarefeet; it also puts immense pressure on us to keep performing better and better every day. Such recognition raises the expectations of our clients and increases the benchmark internally.'
Mr. Mohit Goel, CEO - Omaxe Group in a recent event said 'Beyond Squarefeet is the only company in India that re-orients and restructures a Mall. Overall, Beyond Squarefeet practically adopts the Mall and strives to make it the best.'
About Beyond Squarefeet:
India's first mall advisory company which provides end-to-end solutions in the specialized areas of Mall conceptualization to Mall Management, with extensive "hands-on" experience in Retail & Mall development. Beyond Squarefeet focuses on Mall Conceptualization, Mall Positioning, Mall Marketing & Leasing, Facility & Mall management and Mall Re-orientation. Beyond Squarefeet is currently hand holding 22 Malls spread over 13 million sq. ft. across India, Iran, Qatar, Nigeria and Nepal.
Some of the key current projects of Beyond Squarefeet are DLF Mall of India (Noida), Ado Bayero Mall (Nigeria), Oberon Mall (Cochin), Logix City Centre (Noida), Omaxe Connaught place (Greater Noida), HBN Town Center ( Lake front) & HBN Town Center (Sunrise city) in Bathinda, Aashima Mall (Bhopal), Lonavala Square (Lonavala), Gokulam Galleria (Calicut, Kerala),
RP Mall (Kollam, Kerala), K10 Mall (Jalna), a mix-use project in Thrissur (yet to be named), CG Malls & CG Retail across Nepal, etc. A few of the past projects of Beyond Squarefeet include LULU International Shopping Mall (Cochin, Kerala), Neptune Magnet Mall (Mumbai), Bergamo (Chennai), Moments Mall (Delhi), and Parco Mall (Doha, Qatar) among others.