Insurgency has been hijacked by politicians: Northern Group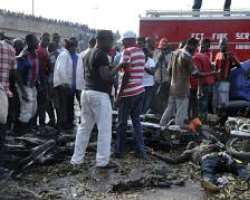 Insurgency has been hijacked by politicians: Northern Group
A northern political group, the Northern Alternative Forum, (NAF) is persuaded that the seeming interminable cases of insurgency by various terror groups, especially the dreaded Boko Haram Islamist Group, are the handiwork of politicians.
The therefore want the security agents to beam more searchlight in that direction if they hold to find lasting solution to the insurgency.
NAF strongly condemned the recent bomb blast at Emab Plaza in Wuse Two, Abuja, which killed over twenty people and injured many others.
The Northern Alternative Forum in a statement said the insurgency has in fact been hijacked by politicians and urged the security agencies to beam their searchlight on them.
Chairman of the group, Alhaji Gidado Ibrahim (Sarkin Yamman Potiskum), in a statement, said, "On behalf of our group and my family I wish to commiserate with the families of those who have lost their lives in the said attack.But most importantly I wish to draw the attention of Nigerians to activities of some disgruntled politicians who we believe are the brains behind the spate of bombings and killings in parts of the country in order to cast President Goodluck Jonathan and his government in bad light ahead of the 2015 elections.
"We want Nigerians to know that what is happening in this country today is not anything about religion. This insurgency has been hijacked by politicians and we are calling on the politicians to desist, to stop making statements that are inflammatory.Some politicians have made it clear that they would make this country ungovernable if President Jonathan succeeds in 2011 and these things are manifesting before our eyes today.
"On behalf of the Northern Alternative Forum, I wish to call on security agencies to beam their searchlight on politicians who consistently make inciting and unguarded utterances to further their selfish political ambitions.
The forum is pained by the upsurge of attacks on innocent citizens and expresses confidence in the capacity of the Nigerian security forces to overcome the insurgency and return the country to the path of peace
" The Northern Alternative Forum is in support of President Goodluck Jonathan because his Transformation Agenda is recording results in various sectors of the economy, an indication that the future of the country will be bright under his leadership. We call on Nigerians not to be deceived but to remain focused on the achievements of the present administration and to cooperate with the relevant authorities to expose and shame the detractors of the administrations."‎