Ekweremadu disowns Facebook account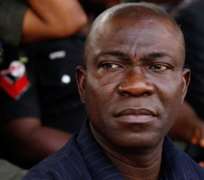 President, Ike Ekweremadu, has disowned a Facebook account which he said was opened by impostors, with the intent to defraud innocent Nigerians.
Ekweremdu in a statement, on Sunday, said that his attention has been drawn to the activities of impostors who opened Facebook accounts in his name.
The statement endorsed by his media adviser, Uche Anichukwu indicated that the intent of those behind the Facebook account was to engage in shady deals and defraud unsuspecting members of the public.
The statement read: 'Our teeming supporters and members of the public are hereby warned not to have anything to do with any of such Facebook accounts, as they have absolutely nothing to do with Senator Ike Ekweremadu or Office of the Deputy President of the Senate.
'Senator Ike Ekweremadu has no Facebook account and anyone dealing with or communicating with anyone who claims to be the deputy president of the Senate on any matter, including contracts, appointments, scholarships, sponsorship, etc is certainly doing so at his or her or risk. The person is obviously dealing with fraudsters.'
The statement indicated that the scholarship scheme and other empowerment programmes of Senator Ekweremadu are handled by the Ikeoha Foundation, a non-governmental and non-profit organisation, founded in 1997.
'Annual scholarship programmes and bursary awards are usually advertised and the beneficiaries selected based on pre-determined criteria,' the statement said.