Obama to nominate ex-Procter & Gamble Chief to lead troubled veterans agency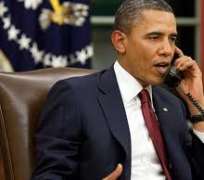 President Obama intends on Monday to nominate Bob McDonald, a former chief of Procter & Gamble, to be the next secretary of veterans affairs, administration officials said Sunday.
The president last month accepted the resignation of Eric Shinseki, the retired four-star general tapped in 2009 to lead the agency, whose health system has been rocked by allegations of mismanagement and cover-ups of long patient waiting times.
By tapping Mr. McDonald, whose prospective nomination was first reported by The Washington Post, Mr. Obama is betting that a new leader can overcome deep bureaucratic problems and the mismanagement that stemmed, in part, from a surge in the number of veterans needing care.
A White House official said that the president would formally nominate Mr. McDonald on Monday. If he is confirmed by the Senate, Mr. McDonald would lead an agency that runs the country's largest integrated health care network, with more than 1,700 facilities that serve over eight million veterans a year. He would become the second person to lead the troubled agency for Mr. Obama.
At Procter & Gamble, Mr. McDonald oversaw more than 120,000 employees as he directed a company that had operations across the globe. Officials noted on Sunday that Mr. McDonald's former company served more than five billion customers.
"Described by his business peers as a 'master at complex operations,' McDonald brings gravitas and well-honed management chops to the V.A.," an administration official said.
For Mr. Obama, the decision to move quickly is a reflection of the importance that the president and his top White House aides put on responding aggressively to the problems at the veterans hospitals.
Those problems have raised new questions about the administration's ability to run the government effectively, a promise that Mr. Obama made a central part of his campaigns for office in 2008 and 2012. Coming just months after the debacle of the health care website rollout late last year, the veterans scandal gives added firepower to Mr. Obama's critics.
In the White House, officials said they considered three kinds of people to replace Mr. Shinseki: someone with management experience, someone with a military background and someone with hospital experience.
In picking Mr. McDonald, Mr. Obama signaled that he saw the problems at the veterans agency as primarily a management concern. A report issued on Friday by Mr. Obama's deputy chief of staff, Rob Nabors, described a "corrosive" management culture at the agency and "a lack of responsiveness and an inability to effectively manage or communicate."
But in the former business executive, the president also found someone with military credentials that should help ease concerns among the agency's primary constituency: veterans and their families. The White House called Mr. McDonald a "significant supporter of the U.S. Military Academy" and a "life member of the U.S. Army Ranger Association."
Mr. McDonald will have to win over lawmakers in both parties who have long ties to an agency that serves many of their voters.
Continue reading the main story
Continue reading the main story
Senator Bernie Sanders, Independent of Vermont and the chairman of the veterans affairs committee, offered a neutral reaction to Mr. Obama's choice on Sunday.
"The V.A. needs significantly improved transparency and accountability and it needs an increased number of doctors, nurses and other medical staff so that all eligible veterans get high-quality health care in a timely manner," Mr. Sanders said. "I look forward to meeting with Mr. McDonald next week in order to ascertain his views on these important issues."
The Department of Veterans Affairs has been the focus of attention for problems for years. In his 2008 campaign, Mr. Obama criticized delays in providing benefits to soldiers and their families returning from war and promised to make fixing the agency a top priority.
But while the White House has touted progress in distributing benefits, the revelations this spring about delays in seeing patients has raised the agency's profile to a new political level.
After reports first surfaced that employees at the veterans hospital in Phoenix had manipulated waiting times, investigators and White House officials confirmed that similar problems were occurring at hospitals across the country.