Consumers Applaud Absolut Vodka 'Transform Today' Initiative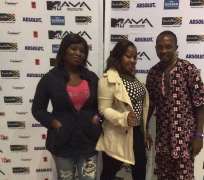 LAGOS, Nigeria - Riding on the success of the 'Transform Today' campaign, Absolut consumers have continued to shower praises and encomium on the premium vodka. This is fallout of Absolut Vodka's sponsorship of the just concluded 2014 MAMAs which was held in Durban, South Africa. The consumers made up of VIP ticket winners, super key distributors and friends of Absolut recently shared their experiences of the brand's love for music, transformation, and creativity in Lagos.
The Absolut team of Akintayo Akinseloyin, Ademola Adelabu, Feyikemi Afolabi, Ayeni Oluwatobi, Esther Nwogu, Simeon Ejeh, Oluwadamilare Job and Celestine joined others around the world to celebrate the efforts of young African talents who have helped transform the continent. The MAMAs created an opportunity for Absolut Vodka consumers to connect with celebrities like Clarence Peters, Davido, Flavour and Tiwa Savage in an atmosphere of colorful faces, stylish looks, and musical funfair which raised the bar of entertainment in Africa.
Speaking during the media interactive session, Akintayo Akinseloyin, Brand Manager, Absolut Vodka Nigeria said, 'We are happy to be a part of the celebrations of creativity and transformation in young people and we look forward to more entertaining moments in the future. The Absolut brand is poised to inspire transformation through creative art and this we have shown with the consumer VIP experience to the Awards in South Africa.'
The duo of Simeon Ejeh and Esther Nwogu could not hold back their excitements as they turned to different social media platforms to register their happiness saying 'Absolut Vodka is truly transforming today for young people in Nigeria' and 'This is an experience of a lifetime as I never thought in my wildest dream that any brand in Nigeria can actually provide ABSOLUT fun' respectively.
First VIP ticket winner, Feyikemi Afolabi thanked the management of Absolut Vodka for an exciting exposure coupled with new business contacts and opportunities she got from her passion to re-create. While Oluwatobi Ayeni, a trendy and out-going individual expressed much surprises considering the free good time he had and finally came to the realisation that Absolut Vodka has actually helped to transform his today.
Aside attending the MTV Africa Music Awards, Absolut thrilled the consumers to an interesting merry-go-round of the City of Durban, a foremost tourist destination in Africa. It was an all-expense paid trip and exposure for the VIP ticket winners as they maneuvered from special retreats at international hotels to choice restaurants, shopping malls, fun-rides, exclusive parties, and a memorable sight-seeing of some spots in Durban to mention a few.
Other activities which formed a part of the Transform Today campaign in Nigeria included consumer engagements with cocktail beach parties in Elegushi, Art Party with Absolut in Lagoon Crest and it all cumulated into Absolut Vodka rewarding esteemed consumers with branded Beats by Dre Headphones and the big one - VIP tickets to attend the MTV Africa Music Awards LIVE in South Africa.
The newly introduced 'Transform Today' by Absolut category of the 2014 MAMA was won by Clarence Peters - a Nigerian music video producer and it's aimed at celebrating the talents, and creativity of African artists who are at the cutting-edge of change in the music industry, pushing the boundaries of contemporary culture to connect with passions of the new generation in Africa.
Finally, consumers of Absolut Vodka can get special invites to events and activities when they visit www.facebook.com/absolutvodkanigeria or follow on Twitter @AbsolutVodkaNig to share their signature cocktail for an Absolut experience.