American Senate frustrating effort against Boko Haram —Rice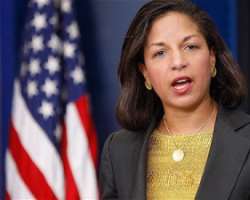 American Senate frustrating effort against Boko Haram €"Rice
Susan Rice
The United States of America has said its efforts towards assisting Nigeria in fighting the Boko Haram insurgency are being hampered by its Senate.
The US' National Security Adviser, Susan Rice, said the country's Senate delay in approving President Barack Obama's ambassadorial nominees was hurting America's national and African security, particularly in the fight against terrorism in Nigeria.
"I am focused every day on keeping our country secure and our citizens – at home and abroad – safe. But these goals are hindered and our stature abroad is weakened when we are not fielding a full team. That's why I urge the Senate to let the President's qualified ambassadorial nominees get to work on behalf of the American people," Rice said.
According to her, 16 of the ambassadorial posts are in Africa, adding that the Republicans in the US Senate have refused to confirm Obama's nominees.
"In Africa, a quarter of our ambassadors are awaiting Senate confirmation. And in combating regional instability and serious challenges such as Boko Haram, key partners including Niger, Cameroon, and Mauritania – as well as our delegation to the African Union – need ambassadors in place now.
"And with the US-Africa Leaders Summit planned for later this summer, it's crucial that we display our commitment to partnering with leaders from across the continent for the good of Africa and the United States," the American security adviser said.
Rice added that President Obama had been waiting for at least five months for the Senate to confirm the appointment of his nominees.
"Right now, 48 nominees for ambassador are pending and 26 are on the Executive Calendar and eligible for confirmation by the full Senate — 16 of whom are career Foreign Service Officers.
"Together, all ambassadorial nominees have been waiting an average of 161 days, while those on the Executive Calendar have been waiting an average of 262 days. This is simply too long," she said.
Punch