3rd Mainland Bridge is safe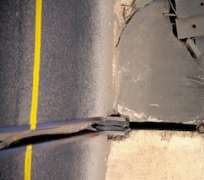 The Federal Controller of Works in Lagos State, Godwin Eke, has allayed fears over safety of the Third Mainland Bridge, saying it was safe, stable and undergoing routine maintenance.
Eke told NAN on Friday in Lagos that there was no problem with the expansion joints which he said had earlier been repaired.
The controller said that contract for repair of the abutment of the bridge was awarded in 2012, adding that the contract was ongoing.
He explained that the bridge abutment was being reinforced because of erosion which was wearing its foundation, adding that some roller bearings would also be replaced on the bridge.
"The Third Mainland Bridge is safe and sound, and the repair of the abutment is ongoing," he said.
He said Rehabilitation of Lagos Ring Road Abutment and Approach Ramp to the Third Mainland Bridge was awarded to Messrs Borini Poroni on Dec. 17, 2012.
He said the scope of work included protection of the bridge from erosion around the Lagos Ring Road.
He added that the work was to replace some roller bearings and removing bad portions as well as resurfacing it using hydro demolition technique.
Eke also explained that the method to be used would not involve total closure of the bridge but partial closure to tackle the problem span by span.
"We discovered that the foundation of the bridge on the abutment side was being eroded daily.
"One of the scopes of work is to protect the abutment against erosion, and then we are to strengthen the abutment column by superficially demolishing the concrete," he said.
He said the work would be done through the use of hydro demolition technique and concrete jacking.
"Bridges are built in spans, so we have to lift the span that needs repair and we are also to change the bearings, replace existing abutment support and columns.
"In order to be able to repair the bearing, we have to lift up the bridge, that is jerk it up," said Eke.
He said that on the Lagos Ring Road, the rubbers on the expansion joints were also being replaced as part of the project.