Boko Haram: Gov. Shettima directs LG boss to verify abduction of 60 women in Borno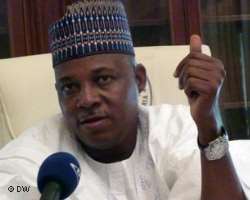 Governor Kashim Shettima of Borno State has directed the chairman of the Damboa Local Government and other government officials from the affected areas to make very urgent but accurate enquiries from communities and report to him as soon as they can regarding claims that about 60 women were among those kidnapped in raids on the villages of Kumanza, Yaga and Dagu.
A statement issued by his Special Adviser on Communications, Isa Gusau, said that the governor viewed the reported abduction with all the seriousness it deserved and  was worried that weighty developments such as information concerning the abduction of 60 persons requires careful enquiry in order to obtain information that is comprehensive and beyond any reasonable doubt.
The governor recalled that recently, leaders of Miyetti Allah Cattle Breaders Association refuted media reports that some 30 Fulani women were kidnapped at a community in Chibok.
The association, according to the statement, relied on what it called comprehensive investigation that involved making enquiries from all of its members, not only in the area the kidnap was said to have taken place, but also in the entire Borno State.
'The governor very much appreciates the urge of the media to inform the public about happenings, not only in Borno State but everywhere in the world, given the fact that the public has a right to know and they ought to be informed.
'However, he feels the Nigerian press is very competent enough to deploy means by which comprehensive and accurate information can be obtained.
'The governor appreciates that both the media and government at all levels are working in unusual ways, given the nature of the unfortunate insurgency attacks that have remained persistent in some parts of Borno State.
'He knows and understands the difficulty but, at the same time, he calls for patience at all times, so that collectively, the media and government can, in giving out information, be sure of exactly what happened, how it happened, when and who is or are involved.
The governor is hopeful that the schoolgirls abducted in Chibok will, by the intervention of God, be rescued and so will those recently affected, if ongoing enquiries confirm reports about the unfortunate incident,' the statement read.