Ending terrorism at viewing centres – Punch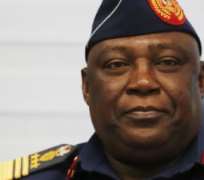 Proving constantly that our security agencies are a mismatch, Boko Haram terrorists have continued to land deadly body blows on the nation. Among the latest was the bombing last week of a television viewing centre in Damaturu, the Yobe State capital, where people had gathered to watch a World Cup match. The attack left 21 people dead, with 27 others injured. This is one dastardly attack too many. And to add to the injury, reports on Tuesday indicated that 60 more ladies and 31 men were captured by the terrorists on Saturday in Borno State.
Being a World Cup period, it is likely that attacks on TV viewing centres will continue. Early in June, over 400 fans escaped death by a whisker when a suicide bomber targeted a centre where they were watching a football match in Jos, Plateau State. The messenger of death and another person died a few metres away from the viewing centre because the bomb detonated accidentally before he could reach his target. But the people at the viewing centre in Mubi, Adamawa State, were not that lucky a few days later as 40 of them were incinerated in a bomb attack.
It is no longer news that terrorists always choose their targets and timing to deliver maximum damage. And the highly emotive atmosphere provided by the Brazil versus Mexico match, where youths had gathered in large groups to watch an entertaining encounter, was too tempting for them. The bombing left in its trail chaos, pain, injuries, destruction and death. 'The victims are young men and children,' said an eyewitness. 'They have burns, ruptured tissues and bone fractures.'
Attacking TV viewing centres is consistent with Islamist terrorists' philosophy of targeting crowded places or 'soft targets.' Bomb attacks on viewing centres are therefore not limited to Nigeria. Rather, such attacks have become routine for the global jihadists in fragile states like Afghanistan and Somalia. In July 2010, al-Shabab militants wreaked havoc on two viewing centres in Kampala, Uganda's capital, during the screening of the World Cup final. About 74 people died, while 76 others were injured.
Similar attacks have also been recorded in Kenya. On June 16, bloodthirsty gunmen, suspected to be of the al-Shabab stock, killed at least 50 people in the coastal area of Mombasa, Kenya, during the live telecast of a Brazil 2014 World Cup match. Christian lodgers in two hotels in the area were also not spared.
Although there is a divided opinion over the place of football in Islam, some Islamist terrorists believe that it is against the religion to engage in a game of football, or any other sport for that matter.
A known Egyptian Salafist, Yasser Al Borhamy, who belongs to the group of those opposed to people playing or watching football, recently issued a fatwa (an official order), forbidding people from getting involved in the game. He was quoted as saying, 'World Cup matches distract Muslims from performing their (religious) duties. They include forbidden things that could break the fast in Ramadan as well as other forbidden things in Islam like intolerance and wasting time.' According to the Egyptian, football lovers fall in love with 'disbelievers of foreign teams' players and others, which is rejected.'
Such warped thinking explains why the attacks in Mubi and Damaturu may not to be the last in this season of football. But peace-loving people, especially the youth, do not have to give up watching football because of threats of being bombed by terrorists. Following similar attacks in Kenya, the government has advised the people to avoid crowded areas. The country's Interior Ministry statement warned, 'Where possible, Kenyans are strongly advised to watch the World Cup matches from the comfort of their homes, instead of crowded and unprotected open places.'
In Nigeria, some state governments have also advised people to stay away from public TV viewing centres. While such a line of action may be acceptable to many, it is nevertheless possible that, given the poor state of electricity in the country and the conviviality associated with viewing centres, people will still prefer going to such places. Operators of such centres, including hotels and bars, must, therefore, take steps to provide adequate security for viewers.
The ban on viewing centres in Adamawa and Plateau states is a sign that Nigeria may gradually be succumbing to the reign of terror. But will the governments also go ahead to ban people from congregating in markets, worship centres and schools, offices and transport hubs because of the fear that Boko Haram, in its evil campaign, has been targeting such places?
Instead of surrendering to Boko Haram terror, the government should put on its thinking cap and stop terrorists in their tracks. Vigilantes and the ordinary people are curtailing Boko Haram activities in some parts of the country, so it is curious that the military has not been as effective or even better.
Adequate security should be provided in every part of the country, viewing centres inclusive. Besides, TV viewing centre operators should promptly inform security operatives about suspicious movements and characters to safeguard the people and their business.