8 killed, many injured in Kano school bomb blast •1 suspect arrested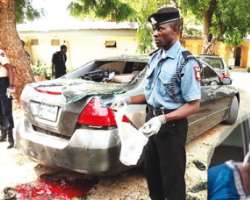 An improvised explosive device went off in the School of Hygiene Technology, located at Gida Murtala-BUK Road in Kano on Monday, killing eight people and injured many.
Most of the victims were freshmen rushing to meet the deadline to register for the new academic session.
It   was learnt that over 20 people were critically injured and eight vehicles badly damaged in the incident which was said to have been caused by a suicide bomber.
The injured were taken from the scene, which was immediately cordoned off by security operatives, to an undisclosed public health facility in the city.
A teacher however told the   Agence France Presse that the blast originated from a car park, near the   college in the Sabo Kofar area of the city.
The state Commissioner of Police,   Mr Aderenle Shinaba, and the spokesman, Magaji Majiya,   confirmed that eight people died in the explosion.
Shinaba, however, told journalists shortly after visiting the scene that   12 persons were injured in the explosion which occurred at about 2.05 pm.
He said, ''There was an explosion in the school this (Monday) afternoon and it happened right inside the school premises.
''I want to confirm to you that 20 people were moved to the hospital, but eight were confirmed dead and 12 others injured.''
The commissioner, who linked the blast to suicide bomber, also said one suspect   arrested in connection with the blast was undergoing interrogation at the state police command headquarters.
He said, ''The suspect is in our custody and we will get to know the motive behind the attack and who sent him on this deadly errand.
'Every lead seems to point at suicide bombing. Unlike our previous experience, none of the vehicles parked inside this school caught fire and there is no hole around to suggest a car bombing, but all leads are still open for investigation.'
The Public Relations Officer of the school, Mallam Muhammad, said the mangled bodies of victims were packed in cellophane bags   and taken to a government hospital.
He said, 'It was a terrible sight to behold when we came for rescue operation.
'We were conducting the screening of our intakes when a suicide bomber penetrated the orderly queue and blew himself and a number of people up.'
Only last month, twin bomb blasts killed scores of people in the Sabon Gari area of the city.