Returned artifacts - We commend Dr. Mark Walker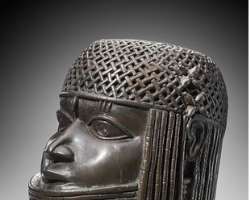 Repatriation of Benin Traditional Artefacts to Benin Kingdom - Benin National Congress urges others in illegal possession of looted Benin artifacts of 1897 to emulate Dr. Mark Walker. 23/06/2014.
The Benin National Congress, a socio-cultural organization established to protect the core values of Benin interests has received with joy and utmost gratitude the voluntary and humanitarian gesture were some of our looted priceless artifexploration were carted away in the infamous Benin masacre 1897 by the British expeditionists were surrendered by Dr. Mark Walker on behalf of his family and concerned Britons. We felicitate with His Royal Majesty, the Oba of Benin and all Edo people over the voluntary reparation of the ancient artifacts, we appreciate the National Commission and Museums and Monuments Commission for their various efforts to recover these ancient loots.
The artifacts are namely - long-beaked bird and a bell (the Ahianmwen-oro and Egogo), two of which represents significant places in the Benin traditional institution were removed by Dr. Mark Walker's great grandfather, Captain Philip Walker, and were received recently by the Oba of Benin at a reception organized in honour of the Briton in Benin. On behalf of the entire members and trustees of the Benin National Congress, we convey our unalloyed gratitude to Dr. Mark Walker, even as he has been penciled down as one of the recipient of the 9th Benin National Merit Award this December; we seize this medium to passionately appeal to President Goodluck Ebele Jonathan GCFR to immortalize this uncommon humanitarian gesture by naming the Headquarters of the National Commission for Museums and Monuments after Dr. Mark Walker. We sue for the replication of this selfless disposition by individuals, corporate bodies and Governments around the world that are still in unjust possession of these priceless works of our ancestors.
We beseech the leadership of the ongoing National Conference to articulate a draft-constitutional measures that will ensure that royalties are paid communities we're artifacts originates from. As we speak, Benin nation is deserving of royalties worth billions of dollars because of the over a century seizures of these artifacts; and the systemic revenues that accrues therefrom to host countries that are in illegal custody. The delegates to the national conference should seize the seize this season of celebration to appeal to our delegates at the National Confab to make a strong case for the reparation or repatriation of all looted Benin artifacts.
For and on behalf of Members and Trustees of Benin National Congress (BNC)
Aiyamenkhue Edokpolo, President, Benin National Congress