Jay Z in another cheating scandal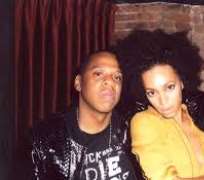 Jay Z is caught up in yet another cheating scandal, with a new report claiming he's been carrying on a long-term affair with singer Mya.
The report follows up on a string of rumors that Jay Z has been stepping out on Beyonce, and that the couple was on the verge of divorce.
The latest rumor comes from MediaTakeOut , which cites a "blind item" gossip site run by a Hollywood entertainment lawyer. The source goes on to claim that Jay Z has been secretly seeing a mistress for years, a person MediaTakeOut identified as Mya.
The source claimed:
"When people talk about Jay-Z and his mistresses, they often forget about a mainstay who has been there forever. She is the person he calls when he needs to be discreet and thinking about old times. She is that very short named R&B singer who hasn't had a hit in awhile and doesn't really even act or record any longer. She basically lives off the generosity of Jay-Z and a couple of other guys. She peaked at A-."
ADVERTISEMENT
It's unclear when the affair could have started, but Jay Z and Mya collaborated on a 2000 song, "The Best of Me."
The Jay Z cheating rumor comes just days after other sources indicated that the rapper was having an affair with Casey Cohen, star of the Bravo show Princesses: Long Island. The source claimed that Cohen met with Jay Z on several occasions .
"Jay probably sees her twice a month," a source told In Touch Weekly . "He visits her while she's working and then they slip away for an after party. She'll hang out with him all night, flirting with him and touching him."
Cohen vehemently denied that she was having an affair with Jay Z, but the rumors were still a black eye for Jay Z. In recent weeks there have been other reports of infidelity with singers Rita Ora and Rihanna, and the infamous elevator fight with Beyonce's sister Solange was reportedly sparked when Jay Z was getting a little too close to his friend Rachel Roy .