NSE: Daar, Starcomms, JIB, 17 others delisted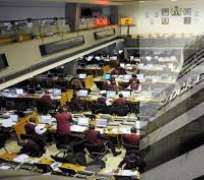 The Nigerian Stock Exchange (NSE) has slated 20 companies for delisting over non-compliance with listing requirements.
Majority of the companies are being delisted for failure to file their quarterly and annual financial statements.
A breakdown of the companies shows that while 15 are being delisted over filing infractions , five others  are being delisted for failure to regularise their listing status after being given time to do so.
Those being delisted for failure to file  their financial statements include: Investment and Allied Insurance Plc; Goldlink Insurance Plc; Pinnacle Point Group; Adswitch Plc; Afroil Plc, Rokanna Industries Plc; IPWA Plc; West Africa Glass Industry Plc; Nigeria Wire and Cable Plc; Starcomms Plc and Daar Communications Plc.
Others are: Mtech Plc; Big Treat Plc; G.Cappa Plc and UTC Plc.
On the other hand, the companies being delisted for failure to regularise their listing status are: Jos International Breweries (JIB) Plc; Golden Guinea Plc; Stockvis Plc; Capital Oil Plc and Nigeria Sewing Machines Plc.
According to the management of the Nigerian bourse,   its quotation committee met on June 2, 2014 and approved the delisting of some entities pursuant to  listing rules of  the exchange specifically clause 15 of the general undertaking.
"The regulatory action is necessary in order to protect the investing public  from trading in the securities of entities  without current information regarding their financial status," the exchange said.
Incidentally, one of the companies, JIB, which is among affected companies, witnessed an unprecedented rally last year.
The company which has not paid dividend in recent times and had not submitted its financial reports for many years, had its shares soar by 415 per cent  in nine months, rising from  N1.46 to N7.52 per share.