Sanitation: Benue, Cross River receive N800m Grant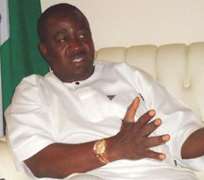 Benue and Cross Rivers States have received the sum of US$5 million (about N800million) to further promote sanitation in the states. The fund was made available by Water Supply and Sanitation Collaborative Council, WSSCC, through the Global Sanitation Fund.
Signing the Memorandum of Understanding, MOU, on the grant in Abuja recently, Minister of Water Resources, Mrs. Sarah Ochekpe, said it would require huge investment to achieve Nigeria Millennium Development Goals' target on sanitation.
She said: 'The population of Nigeria with access to basic sanitation and hygiene has been fluctuating from 37% in 1990 to 34% in year 2000 and it has gone up to 41% in 2012 under national assessment.
'This is however far from our set national target on MDG of 65% by 2015 and 75% by 2020. For us to reach the stated MDG targets, massive investment is needed to provide access to water supply and basic sanitation and hygiene. It is on this note that we welcome the support and participation of our development partners in scaling up access to water and sanitation.'
She maintained that the effort would go a long way in addressing the problem of poor sanitation and hygiene in the country.
In his remarks, Executive Director, WSSCC, Dr. Chris Williams said the grant was the first donor initiative in Nigeria 'developed and led by the Government's National Task Group on Sanitation, NTGS, which is the instrument for sector coordination.
'The innovation sees international funding matched by national, regional and local funding to significantly improve the sanitation and hygiene situation in two states in Nigeria: Benue State and Cross River State, and thereby setting a framework for replication in other states in order to achieve the national target of an Open Defecation Free, OGF, Nigeria by 2025,' he stressed.
According to him, experiences from Nigeria and elsewhere have shown that simply constructing toilets, or offering subsidies for construction, is not an effective way to improve sanitation.
'Therefore the Rural Sanitation and Hygiene Promotion in Nigeria, RUSHPIN, programme favours a community-led approach empowering whole communities to collectively change their sanitation and hygiene behaviour; ensuring that every community member uses a toilet and practices good hygiene.
'The GSF financing of US$5 years provided by WSSCC, will be supplemented by US$2.2 million committed by Benue State Government and US$ million committed by Cross River State government. in addition, the Federal Government has committed funding of US$ 950,000 to support the programme,' he stated.