We almost didn't field Fayose - Mu'azu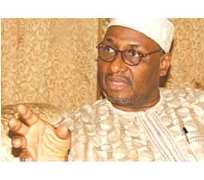 The Peoples Democratic Party's National Chairman , Alhaji Adamu Muazu, on Sunday said   Fayose would not have been   the party's candidate   if 'the Nigerian factor' was considered.
Mu'azu , who led Vice-President Namadi Sambo and members of the party's National Executive Committee,   to pay a congratulatory visit to   Jonathan, recalled that following Fayose's emergence as the party's candidate, many groups reported him to the President for allegedly making a wrong choice.
The PDP boss however commended the President for standing by him in his decision.
He said, 'You (the President) has been patient with me especially on the PDP palaver. You gave me the freedom to get a very reliable candidate. I want to thank you.
'Fayose ordinarily, if the Nigerian factor comes in, will never have been our candidate but you and I know that even after he emerged, some   groups came to you to report me that I have made the wrong choice.
'More often, when they come to the (Presidential)Villa, Mr. President will insist that I must be there. I have seen the same people, I have appealed to them.
'Mr. President will still insist that I must hear and listen, at the end of the day, the truth has prevailed with the support of Mr. President.
'Without getting our first 11 with the President's support and encouragement, we would not have been celebrating today. '
Mu'azu said Ekiti and Osun states belonged to the PDP but the party was robbed of the states.
He said the party had been patient and prayerful, saying that the same God who returned Ekiti will return Osun to the party.
The   party chairman added, 'We all know that both Osun and Ekiti states are PDP states. We have been robbed of them through the process we all know. We have accepted it as law-abiding people and we have been patient and prayerful.
'God the Almighty has returned Ekiti to us. By His special grace, He will also return Osun and many more states.'
He also congratulated   Fayemi for appreciating and accepting the will of the people, who in the first place, brought him to power.