Fayemi congratulates governor-elect, Fayose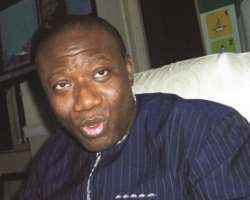 Fayemi congratulates governor-elect, Fayose
Governor Kayode Fayemi of Ekiti on Sunday congratulated Ayo Fayose, the PDP candidate in Saturday's governorship election.
Fayemi, who congratulated the governor-elect in a broadcast to the people of the state in Ado-Ekiti, described Fayose's victory as the people's wish.
"I have just spoken with my brother, Mr Peter Ayo Fayose, congratulating him on his victory.
"In a few hours from now, Monday morning, I will be meeting with the governor-elect to discuss the future of our dear state and how we can work together to institute a smooth transition programme.
"We should remember we are all sons and daughters, despite our political affiliations, Ekiti remains ours to build together," he said.
He, however, said that the achievement of his administration would be the basis for future governments to be assessed.
"We have raised the bar of excellence in the administration of the state; we have fought a good fight and we have kept faith," Fayemi said.
The governor said he and other contestants canvassed for votes based on the programmes they planned to implement without giving room for violence.
He also said that cases of harassment and other observations noted during the election would be documented and sent to the appropriate authorities.