I can only do one term -Fayose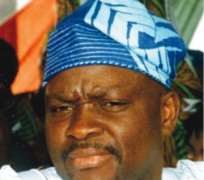 The Ekiti State Governor-elect, Mr. Ayo Fayose, of the Peoples Democratic Party has said that the constitution had limited his tenure to only one as he had taken oath of office before.

Addressing journalists in Ado-Ekiti on Sunday, Fayose, who admitted that the Constitution did not permit him to take the oath of office more than twice said, 'I have taken one and I will take another one in October. After that, I will find my way to my house.
'Again, I have chosen a deputy governor and I have told him from the beginning that the two of us will pack our load and leave the Government House because I don't want a deputy that will start playing politics behind me when we are in government and will be distracting me, I don't want that again.
'So, he is practically here for me to look after certain things for me and ensure that we succeed. When I am going, I will hold his hand and say bye to Ekiti people.'
Fayose while addressing his supporters who visited him after the declaration of the result barred them from insulting the incumbent Governor and candidate of the All Progressives Congress, Dr. Kayode Fayemi.
He also warned them against fighting any group in the name of politics because the electioneering was over.
'The governor is the leader of our state as of today. He has conceded defeat. He is my brother and forever will remain my brother. He has contributed his quota, he has done his best like every governor that has served and we must continue to give him the necessary respect that he deserves,' he said.
Fayose who said he owed his victory to 'God and common man in Ekiti' called for unconditional release of those arrested before and during the election because of the political tension that engulfed the state.
He promised to rehabilitate victims of the political crises and compensate those that lost properties.
'It will be impossible for me to come back eight years after I left the Government without their supports,' he pointed out.