Ekiti, Super Eagles: Signs of unfolding greater nation coming- Jonathan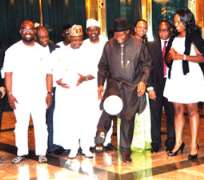 President Goodluck Jonathan has said the victory of Ayo Fayose in Saturday's governorship election in Ekiti and the Super Eagles 1:0 victory over Bosnia Herzegovina in the their second match in the Group, were signs of unfolding greater Nigeria.
Jonathan who disclosed this after been decorated as the National Grand Patron of the Boys Brigade of Nigeria at the Aso Villa Chapel, Abuja,  commended the Nigeria Police and other security agencies for ensuring that peace reigns.
He said the Ekiti victory and the victory by the Super Eagles were indications that Nigeria would soon take its rightful place among the comity of nations.
"I am particularly happy today because of the two events that happened on Saturday. Others have made reference to that. One was the election in Ekiti State.
"I am quite happy not necessarily that my party, the PDP won. Yes, as the leader of the party, I must be happy, but it is beyond that,
"I was told that there may be crisis in Ekiti, because the report I got before the election the feeling is that yes, one party might win or lose, but there will be fire and brimstone. I have to commend the Nigerian Police and other security agencies.
"And today Ekiti is in a peaceful state. Elections are over and of course to cap it all, those of you who watched the late night match the Eagles made us proud.
"I only see this as a sign of unfolding of a greater nation coming. Nigeria will surely take its rightful place in the comity of nations. All the challenges will surely pass away," he said.
He again commended Nigerians for their prayers which he said had so far sustained the country.
Jonathan singled out the activities of Boko Haram sect as one of the obstacles facing the country.