3 Feared Dead as Flyover collapses in Asaba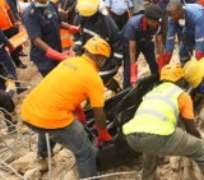 The construction of a flyover at the popular Inter-Bau Roundabout in Asaba came under threat yesterday as workers stopped work in protest of alleged insensitivity of the management of the contracting firm, CCC Limited, following the collapse of a pile pit on three of the workers.
The affected workers, who were feared dead were rushed to the Federal Medical Centre by officials of the Federal Road Safety Commission (FRSC).
According to eyewitness account, the pile pit with a depth of over 20 feet and designed to hold the beams on which the flyover rests, collapsed on the victims at about 11a.m.
The protesting workers said they were aggrieved because of the insistence of the management that they should return to work after the tragic incident. They sustained the protest despite efforts by armed policemen to restore normalcy.
'Management is insensitive to the plight of workers of this company. Imagine, they told us to go and work there without protection when they know that that particular place would cave in,' one of the protesters stated in anger.
The aggrieved worker said: 'One of our staff lost his arm the other day and the management did not show concern. There were two others who died in the line of duty due to lack of adherence to safety regulations, and the management never deemed it fit to attend their burial ceremonies.
'They are taking us for granted. Imaging what has just happened to those people who were almost buried in the pit. Instead of trying to save their lives, they are telling us to go back to work.'
But a member of management staff, who refused to identify himself, blamed the incessant rains for the collapse of the pit.
The member of staff became belligerent as reporters sought his views on the incident, saying: 'I am only here to address my workers and not journalists. I do not have time for you people.'
Another employee, who spoke on condition of anonymity, blamed the company for not providing personal protective equipment (PPE), including coveralls, hand gloves, hard hats and safety boots and other welfare incentives.
'Lots of things are happening at the site. Despite all odds, we have pressed forward. We know our rights. If anything happens to us let the company show concern. Someone had an accident last week we all went back to work.
'Today, three persons were buried alive and are in a state of coma. All we are asking for is to have a day's rest, so we can pray for them. We are not being well taken care of. We should honour the people who are on the sick bed,' he said.