My Reason for Leaving Yusuf Bashir Led PDM-Senator Hanga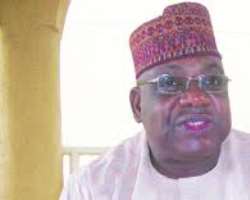 In This interview, former Senator Rufai Hanga, a former governorship aspirant in the defunct CPC, speaks on the issues assoicated with his leaving the Peoples Democratic Movement, PDM. He also speaks on other issues.

The Excerpts

After leaving the defunt Congress for Progressive Change, CPC one of the party that merged to form the All Progressive Congress, APC, you officially announced at a press conference that you have joined another party, the People Democratic Movement, PDM. However, it is being heard that you have left the PDM, have you actually leave the PDM.

First of all I will like to correct one impression; you know we have our problems with CPC, even before the merger, and I wished the merger well, and that it should work in a positive way that will be bring about credible opposition and positive change. However soon after the merge, and the processes of the merger scared me to understand that it was not a merger, it is just like an acquisition and therefore we backed out, we didn't join the APC we waited and then later on we decided to go along and joined PDM. We were meant to understand that PDM is a fresh party, with ideology and so on, having known the history of PDM itself, because I knew the PDM, so I thought it was like the old PDM which I knew. We joined it and after joining we started discovery things, we were okay and we though rather than to stay with the PDM we better leave the party and chart our way forward. I will tell you that I have just confirmed that it is better for me to a small fish in a big ocean, than being a big fish in a pond. We discovered that all the things said about the ideologies about PDM, we found out that the all untrue. I think they are just agents and I wouldn't want an agent to direct me. I better do my things my way and do whatever I think is right. This time around when you have a lot of followers that believe in you, that believe in your judgement, I think the thing we do our selve is to judge well and that is why we have decided to leave. Of course we have some reasons which confirm to us that this people are not real and no sooner that we left we discover them. We discover some hidden things they are doing and they are still on it. We soon at the right time expose it in a larger scale. We are happy we left at the time we left.

You said you people reasons why you left the PDM, what are these reasons.

You see one of the things that happened was that in Kano, because that is where I did the registration and that is where I have all the membership cards collected. Yes it is true that not everybody that will go into party because of somebody, but my supporters left in enmass and most of them brought back their cards and I have them here with me. The reason is the leadership of the party, constituted of some of my supporters and some people brought in by the national chairman. The people brought in by the National Chairman are his drivers, some person who takes cares of his farm and his relatives. Now these people brought are not politicians, because they have never held any political positions even at ward level. Now he brought them and I noticed them as chairman and treasurer, and then he took one person from our side as secretary. So all the Executive members are 15, and out of 15 only five are from my side. Then some of the guys he brought absconded, and went away from the party, so when it was obvious that things were not going well, 9 out of the 15 which comprises some from his side and some from my side sat and decided that the caretaker chairman should be relieved of his duty. They said he is just like a driver and he was very reckless in his driving the party and that he should come back to the party as passenger not as driver since he is being reckless in driving before he will plunge the party into crisis. That is what they did, beside I was out of the country when they did that, so when the National Chairman heard it, he was annoyed, he immediately suspended the nine of them including me that is ten and then reappointed his boys that were suspended. He also brought in other nonentities, and appointed them as caretaker. I said nonentities because they are nothing in politics and nobody knows them. They have never held any position in politics and they cannot do anything. So he appointed them, I was abroad and I heard it that they were making announcements on five Radio stations in Kano five times a day and he gave them each a deposit of N1.7m million for the advert. They spent 21 days announcing it, because I was abroad for 14 days and the advert was still running up to the time I came back. So when I heard it, I called him on phone he didn't answer my calls, so I called some people and told them to go and ask him the National chairman, ask him what is happening I heard that he suspended me and other people, that I am not around, I should be contacted of what is happening, how can he suspend without hearing from me. So when they went he said leave them his boys did this and they did it because of hi and they think he can protect them and I want to show them that even the Senator is nothing, that the wanted to show his power as national chairman. So I decided that what he did is childish and I cannot go on with the party called PDM. In fact we had our suspicion, when Atiku decided to dump the party. I was spending my money in the party and how can I stay without nothing on my own side, so I said no, something is wrong and we decided to leave.

By the time these things were happenings, was the National Chairman aware?

The National Chairman was always aware of all these happening and it was something serious that he couldn't handle, but he refuse to handle it, even when people were complaining of all the things his people were doing. They were treating people as people were desperate to join the party. We told the National chairman, Bashir Yusuf, but he wouldn't listen. I know him because he is from Kano but I never knew he is the kind of person, but people that knows him, when this issue happened they came and said, that the know Bashir as someone who is not good and that is members of his family are not with him the party. His behavior is terrible, because he treats people like someone who have never heard training. Like I heard that he told someone that I said I left with people from Jigawa and so on, am I from Jigawa, how can I say I left with people from Jigawa. Whether people in Jigawa and Kastina remains in the party, I don't care, let them whatever they want to do in the party, I don't care. I have left the party, I have left and I left the party with my supporters in Kano, and I have large followers in Kano and nobody can deny me that, not even Bashir and his master who gave him money to go and do that has not contested and won any election, even councillorship. I have been in politics, I won elections and am grateful to God for that and I will boast of that anytime, any day.

This issue that happened in Kano, did it also happen in some other states.

Well it happened in South-East, and some part South-South, I think there was a press Conference and they left also, I saw it on Premium Time and I saw it on Daily Trust. I want to assure you that left with Jigawa, Kastina, but I want to assure that there will be exodus of people from the party because there is no party. They only place where the PDM exist is Kastina, because of people like Senator Audu Yandoma who has integrity and good mind, he is the only person facilitating the PDM in Kastina. He is a man of the people and the respect him lot, that is why there is PDM in Kastina, otherwise there is no PDM anywhere. Even in Kastina, Senator Audu Yandoma. is very tired with the happenings, but there is nothing he can do about it because he has already introduces the party to his people. But in Kano the National Chairman cannot get any person to join him and that is why he is behaving the way he is behaving, and am sure he is an agent.

You said you are sure the National Chairman of the PDM is an agent, what agent do you think he is.

He is an agent of destruction; he wants to make sure he destroyed the party. I know there is something amiss, somewhere.

Is it now fallacy his claims that the party is widespread?

Where is it widespread, where is it. Let him hold a congress, let us see who will come to the congress, they can't have a congress, a national convention. They can only announce it, but they can't have a congress.

Now that you have left the party, what is your next way forward?

My next way forward, is am now discussing, in fact we have been consulting since we left the party, and you know we are in a very difficult situation now, because the only party that exist in this country is now two, the APC and the PDP. We knew they were there when went and joined the PDM, and most of that joined the PDM were from one of the legacy party that made up the APC. We have all our reasons not join them. No the difficulty we are getting is taking a decision of where to go. Initially my intention that I made clear to friends, supporters, friends, and others is that I am going on sabbatical from politics, because nobody quits politics, but can just rest for a while. But then people said, no, no, you cannot do that. We followed you, we agreed with you to go and joined the PDM, and we all agree to leave it. We have to go another party and we have to go together. So I am consulting now. I want to join politics, but I don't want a situation I pull people into a place and people to start to insinuate, even though you cannot stop people from doing that, but the most important thing is the end result of whatever happens. The important thing is when you anticipate, when you forecast, you will say this and this will happen and it happened. That is the most important thing. So I am grateful to God. We are consulting and we are going to make our decision known very soon where we are heading to, because we have to state our reasons clearly.

Do you still have any political ambition?

Though not really, however I am not politics because of any ambition, my ambition in politics is to have a better society, to better things, to make sure that I am part of making thing better and good. That is why I am politics and I have been in politics since 1978. I am in politics because I want to be part of any change that will better the lots of people.

Why I ask you that is because while in CPC, you wanted to contest for the office of the Governor for Kano State.

Yes, but you know that people don't know issues about my contest, my aspirations for the governorship; you see people said a lot of things against, and I am happy they are getting it from God now. I formed the CPC, funded it, spread it, and sheltered it all alone. I never had anything in my mind, then other than to have a change, other than to better the lots of the Nigerian people. Buhari is the Presidential Candidate, and he is the leader of the party and that was what I had in mind. Now, when the party took root, when the party became popular, majority of the supporters who were with me came in and said look, this man has left the party, that man left his party and all to CPC, they are all here because they see the way the party is waxing strong and gaining popularity and also is accepted, that they are all treasure hunters and that they don't know our sweat and we have suffered now and here they are now to join the party. That they have come with their people, and that if they become governors or whatever office they aspire, they will never have any regard for us. So we are asking you, because you are qualified to run for the office of the governor of Kano State. You suffered in forming and nurturing the party from the scratch, come and contest so that we can say yes our man is there, initially I refuse and resisted it and they insisted. I told Buhari that people are asking me to contest for the office of governor of Kano, but I don't want to, he said why, after all you suffered, he gave me the nod and said go ahead, after all you suffered for the party, you suffered to spread, you financed it, you want somebody who didn't know anything about it to come and take over, please go ahead. Even when I started to get the heat from people who never wanted me to run, who hated me, my detractors, I went back to Buhari and told him look, this contest I don't want it, he said why and I said because people are just working against me and he said so what, I should go ahead. Then later on, when we come and we had many people in the party, Buhari saw it that if he continues to support me, they will go against him, he pulled out from supporting me. He was initially supportive to me, but when he saw all of them vehemently against me, he backed out, and went against me too so that he will save his neck, his ambition, and his contest. Of course he thought they can do something about it, the rest is history. I contested elections both at state and Federal. At Federal I was in the House of Representatives, and also at the Senate. People called me to come and contest, and I contested and I won.

You have a case with the CPC, over your building in which the defunct CPC was housed, and you have demanded for your house, which you later took them to court. Is the matter settled now?

The matter is not settled, but I have to say this, but is shameful to say, that one the refuse to vacate the building, until I have to go to court and they were evicted. Secondly the judgement was for them to pay me, money for the rent, they refuse to pay me, later they gave a cheque for a part payment and they cheque bounced, they begged me to represent the cheque and I represent it, it bounced again. I told them that it bounced, they told me to represent it again and I represented it again and it bounced making the third time the cheque bounced. So I have no alternative other than to petition the EFCC, why they will issue me a fake cheque, because they have no reason to give me a fake cheque, and that is a fraud.

With the coming of the APC, and the PDP, it seems as if Nigeria is heading towards a two party system. What does this portends for the Nigerian democracy and polity.

Of course is a two party system, some people who think they are wise, thinks is better, for my own opinion is not good. For example people were against PDP, they opted to go and join another party. Now, when the party came into being, I never believed in the marriage called APC, because my feelings are that APC is not better than PDP. Why people against PDP are, is it not because they said PDP committed atrocities to the people, to the state, they have done this, and they have done that. They said PDP has acted with impunity. Now we have seen it, and I said before, that the impunity the APC is committing, they thing they are doing is more than what the PDP has done. Those who were driving the PDP before, for over 14 years, are they not those that are in APC. So why are people blind, what is happening, can't we see?

But the APC said that they are the progressives

Progressives? Are they progressives with what they are doing now, they are doing worse than what PDP did. Progressives are people or someone who doesn't force somebody on people, who don't cheat people. All these governors that joined APC, they way they are running the state, is worse than they way the PDP led federal government is doing. Moreso, even their recent convention, what happened, is just imposition, imposition. It is clear, it is open. So where is the progressiveness there? Who is progressive among them? Let me tell you, the moment they said the serving governors are in charge of the their states, they are the leaders of the APC in that state, I knew something is amiss, and immediately they took the leadership of the states which are control by the PDP and gave it to the charge of the APC state governors. For example Sokoto state governor is incharge of Sokoto, Kebbi and Kastina, he uses Sokoto State fund to float the party, to finance the party in these states, and put it in his pocket. For Kano, he was given the states of Jigawa, Kaduna and Kano and he uses the Kano State fund to finance those states. For Kwara state, he is incharge of Kwara, Kogi and Niger. He is also using Kwara state funds to finance the party in these states. Adamawa is incharge of Adamawa, Taraba and Gombe. All over that is what they are doing, places like South-South, Amaeechi is financing most of the South- South States and Oshiomhole is incharge of some state in the South-South even though he is handling the thing some carefulness and subtleness. He is not even enthusiastic about the thing. I think he is a progressive. So what are they different between them and the PDP and what is more atrocious than this. They are now just two party and there is no where to make alternative, it is just for us choose the lesser of the evils.

The making of Sanusi Lamido Sanusi as the new Emir of Kano following the death of the former Emir, late Ado Bayero, there were a lot controversies that surrounded it. What is your take on that?

Well, I am happy for Sanusi, that he is the Emir now, I am happy we have an Emir in him, he is very competent, he is very articulate, very exposed. That one I am happy. I wish him well. But I am not happy with the way things happened, because the politised the thing. It came like APC, PDP affair and the person who instigated it is the governor, Kwankwaso, initially you know there was a trouble between him and the Emir over the appointment. The Late Emir appointed somebody Waziri, now Kwankwaso, was very undiplomatic, even though people didn't like it or you didn't like, you approach the thing in better way, rather than the way he did it. However, he insisted that the Emir, in short he humiliated the Emir, they it was never meant to be. Nobody has humiliated the Emir all his like that before, the Emir since that day never came out, he was so humiliated. He went and demolishes the house of person Emir appointed, without notice, all this were disheartening and the Emir died, and when the Emir died he should have been diplomatic but he came out arrogantly, as if he was pursing the Emir to the grave. He was making pronouncement and talking like that. Unfortunately some one of his caliber shouldn't have behave like that. Tomorrow will definitely come. Yes it is his prerogatives as the governor to appoint a new Emir from amongst those choose by the king makers. The King makers selected three people, even though we had it from Grapevine that the selection was manipulated, but whatever happens it is his prerogative to chose a new Emir. He should have kept quiet and do it silently and quietly. This Emirship is a family, whoever becomes is the same. The two that are contesting, they are competent, they brothers.