NOSCEF EMBARK ON 3 DAYS PRAYER, FASTING FOR CHIBOK GIRLS, INSECURITY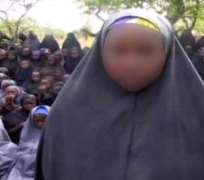 The Northern Christian Forum, Borno state chapter has begun a three days prayer and fasting for the release of over 200 female students abducted by the Boko Haram sect in Chibok town of Chibok local government on April 14, 2014, as well as the general insecurity situation bedeviling the northeast region particularly Borno state.
Speaking at a Press Conference on Thursday, Chairman of the Northern Christian Forum, Bishop Emeritus Emmanuel Kana Mani said, " We will among other prayers, cry to God on issues bordering on our peculiar situation in Borno, principally, on security matters and for our Chibok girls abducted to be brought back, and by extension to the situations in the Northeast region, the North in general, the middle belt, the kidnapping in the southern part of the country and other parts of the world having similar problems as we'll."
He said, the group is going to call upon God to intervene in our political situation as the country approach the election year of 2015 for a peaceful and successful election. Adding that, their petition would include the oneness and unity among Christian bodies and peaceful co-existence between Christians and other religions, culture and people. "We will pray and cry to God to have mercy and forgive us our sins and incline our hearts to do what is right at all times. "
The Chairman said in July, 2014, the group will hold a seminar on "Christian Leadership in the 21st Century", where it hope to speak on Political Awareness among Christians, Economic Empowerment, Unity and Oneness among believers.
While appreciating the government and People of Borno state for the relentless effort to restore peace in the state, the group said, the good effort of the Borno state governor, Kashim Shettima is noted and the concern exhibited in the rescue of the abducted Chibok girls and other security issues are well appreciated.
The Chairman also commended the security men and women who have demonstrated bravery in their fight to keep the state and the country safe.
Speaking on the role of the Shehu of Borno, Alhaji Abubakar Kyari Ibn Al'amin Garbai El- kanemi, the Chairman said, NOSCEF is pleased with his fatherly role and for being a father to all people in his domain. " He is courageous, bold, straight forward and fatherly, even in the face of insecurity challenges." he stressed.
He said, the duty to promote peace and harmonious living, is a divine assignment to all and sundry. "The press has contributed significantly in moulding and shaping our society. We urge you to continue to expose all negative and divisive tendency in our midst. It is our prayer and hope that God in His infinite mercy will continue to protect you from the hazards of your Job."