100 feared dead in Lagos pipeline explosion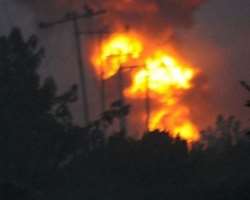 100 feared dead in Lagos pipeline explosion
Again, the god of fire was rankled at midnight Wednesday and it responded in its combustible fury.
The fire was sparked after one of the pipelines belonging to the Nigerian National Petroleum Corporation (NNPC) at the Takwa Bay Beach in Lagos, exploded Wednesday midnight.
Casualties are estimated at hundreds.
Eye witnesses claimed that the spillage occurred and hundreds of people had dashed to the scene of the spillage, armed with buckets and bowls. They were said to have been scooping fuel when the explosion occurred.
It has always been the same story: pipeline rupture followed by scooping of fuel and then before you could say Jack Robinson fire would burst out in a tragic intensity.
Majority of the people who were scooping at the time of the explosion were killed.
Nobody knew for a fact what led and cause the explosion, but it is believed to be the handiwork of pipeline vandals who drilled holes on exposed pipeline in order to scoop fuel.
Not too far from the sight of explosion, in a pit allegedly dug by suspected vandals, a pool of petrol was seen. Some of the villagers explained that it was from the pool that the scooping took place.
One of the villagers, who wished to remain anonymous, said: "The vandals come to our areas in canoes loaded with several hundreds of 50 liter Jerry cans. They filled the jerry cans with fuel, tied them to several yards of ropes with which they dragged the already filled Jerry cans across the murky waters to a place considered safe before they would eventually load them on to their boats.
"They do these to avoid the prying eyes of security operatives from identifying what they are carrying."
Rescue workers were yet to recover any body at the scene of the explosion, but the National Emergency Management Agency (NEMA), Public Relations Officer (PRO) in the South-West Zone, Ibrahim Farinloye who confirmed the incident, said relations of victims may have carted away bodies of the deceased persons for fear that government agencies might use it to track down the whereabouts of vandals.
Farinloye said suspected vandals perforated the pipelines at Takwa Bay area, adding that the pipeline takes petroleum products from Atlas Cove at Apapa, to Ejigbo and Mosemi depots both in Lagos and Ogun States.
He explained that the activities of the vandals around the area where the pipelines were perforated, led to an explosion at about midnight.
It was gathered that supply valves had since been shutdown to stop the fire, but efforts were still ongoing to track down either victims or fleeing vandals by security agencies.
Farinloye added: "Safety officials from NNPC Atlas Cove base worked from the time the incident was reported around midnight to put out the fire. It was not until around 10am that the fire was completely put out. Cooling process has commenced while pumping of prices will start soon.