How Nkiru Sylvanus Movie On Kidnap Turned Into Reality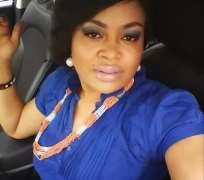 In December 2012, the movie industry was thrown into confusion after an actress, Nkiru Sylvanus was kidnapped in Owerri, Imo State alongside her colleague, Kenneth Okolie. For days, the two actors were in the den of their abductors, who demanded for ransom in order to set them free.
Ironically, the pretty actress and former Special Assistant to Governor Rochas Okorocha of Imo State on Lagos Affairs was shooting her movie entitled 'The Voice, and in the flick, Kenneth kidnapped Nkiru, which later turned a reality. Till today, no one has been able to understand that mysterious incident.
According to her, 'we continued with the movie as I and Kenneth learnt something from our captors which was helpful to us in our role interpretation.'
'The Voice', according to information available to Nollywoodgists.com, is set for premiere on July 13, 2014 at the prestigious Oriental Hotel, Lekki, Lagos. The thriller film was written and directed by Afe Olumowe, while Nkiru, who played the lead role, produced it.
Other casts include Kenneth Okolie, Betty Njoku-Olumowe, Larry Briggs and Edwards Fom.
According to the synopsis, Sandy (Nkiru Sylvanus) had been told by a stranger named Jeremiah (Larry Briggs) that she will die in 90 days. To prove that she will truly die, he tells her three unusual events will precede her death. They all happened the way the stranger told her. On the 90th day, another stranger named Solonzo (Kenneth Okolie) turns up and wants her money and may be her life.
So he kidnaps her and holds her hostage until he could assess the 10 million naira check she had given him. Would she have the wisdom to live with him and would he have the patience to keep her alive? It is just 5pm, they have till 12 midnight of the 90th day to decide that.
© 2014 Nollywoodgists.com
Click the link below to go to...
Agony Of An Unmarried Woman--Regina Askia Writes
I Can't Be Forced Into Marriage--Bimbo Akintola Speaks Out
Top Yoruba-Nollywood Actresses Sizzle In Colourful 'Owambe' Attires [Pictures]
POWERFUL: T.B. JOSHUA'S PRAYER TO #BringBackOurGirls [Video]
Ice Prince, M.I To Battle On Stage In Lagos
Bukky Wright Supports Son's Music Career
The Return of Baby Oku in America' Gets PG Rating