Denrele Grows Swollen Feet After Birthday Celebration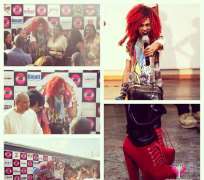 Television presenter, Denrele Edun, is actually carving a niche for himself as he is virtually seen everywhere on red carpet events to hosting of shows.
Recently, the fashion freak entertainer celebrated his birthday and friends and well-wishers floated the social media with his pictures and goodwill messages.
According to Denrele, with the whole stress, his feet were swollen because he had no time to rest after his birthday.
'Had a crazy weekend! From my Birthday on Friday the 13th through till Monday morning! #Nonstop Fun. I hosted the NeedleKraft Fashion Show at Civic Centre on Sunday afternoon. Got there a little late (as usual), swept in like a tornado, hosted the Red carpet live, handled the backstage interviews and then went on stage to work my magic!! As usual, I did not fall anybody's breast!! Handled the auction segment, raised a couple of millions and then wham bam..had to rush to the next event!! Oh and yeah, my feet were swollen the previous nights from madcap dancing but then #FashionIsPain! #picstitch #workmode #Life Of A Crazy Kid #hustleAndFlow #OnTop Birthday We Still Dey Work.'