CBN goes tough on debtors, approves black book for loan defaulters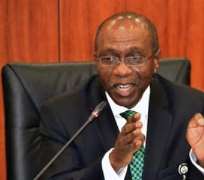 The Central Bank of Nigeria (CBN) has commenced a zero tolerance regime against bad debtors in the nation's financial system, with fresh tightening of rules that would bring defaulters to book and stem the tide of serial defaults
   Under the plan, even borrowers of less than N5 million who have defaulted in repayment would be barred from further enjoying fresh credit.
The new rules were disclosed yesterday by the Director of Banking Supervision of the CBN , Mrs. Tokunbo Martins, at a briefing after the Bankers' Committee  meeting in Abuja yesterday. She was accompanied by the Group Managing Directors of UBA, Philip Odouza; GTB, Segun Agbaje and FCMB, Ladi Balogun.
 Consequent upon this plan, a black book containing names of banks' bad debtors in the country would be opened immediately to blacklist defaulters from further obtaining bank loans in the country. The initiative will be  assisted with the ongoing banks' biometric capturing exercise, which pilot exercise ended at the weekend,  where over 10000 bank customers were registered.
   Martins who gave a preview of what the inaugural Bankers' Committee discussed with the new apex bank helmsman said:  " We just concluded the 316th Bankers Committee Meeting. A number of fiscal issues were discussed , ranging from the macroeconomy ; financial systems stability ; development banking and cashless Nigeria.  Each of the Managing Directors of the money deposit banks both to my left and to my right will brief you on what we discussed today. 
   'But suffice it to say that Emefiele is committed to financial system stability. There will be zero tolerance for infractions. No soft touch regulation or supervision they will be very intense. Serial bank debtors who go from one bank to another in different names and guises taking money and not paying back, what the Governor emphasized is that such people will not be able to get credit anywhere in the system and will be blacklisted. "
    She spoke more on the blacklisting plan: " You remember that in 2012, we issued a circular blacklisting borrowers that have borrowed N5 million and above from banks and those loans went bad and got to AMCON. What we are doing right now is that we are moving that threshold down. We are working out the modalities. It's not something that is finished but I can assure you very soon, the industry will know. In fact the entire country will know those that are no longer entitled to borrow from banks because they have defaulted in their loans in the past.
    In his own briefing of the account of the Bankers' Committee meeting, Agbaje said: 'Macro economic indices, price stability would remain key to CBN governor. With price stability at the forefront of the new regime, it means exchange rate stability as an initiative the CBN will continue to pursue. 
    On the issue of interest rate, the current interest rate environment the CBN finds suitable if not the most desirable so where we are today, is the short to medium term interest rates are likely to stay where they are as the fundamentals of the economies remain fixed, and you deal with such things as interest rates and import substitution, you will start to see interest rates considerably move downwards. Commendable that inflation has remained in single digits all the monetary policies should ensure that we continue to have single digit inflation."
"There are many impediments to lower interest rates like rate of inflation, type of exchange rates desired, what the cost of funds of the banks are, cost of providing infrastructure, cost of providing personnel. All these come into what is cost of funding before you determine what the margin is, even macro economic factors as a country also affect what interest rates are charged. There are so many variables that determine interest rate. Whether you live in lower interest rate environment we do not want interest rate that is below the rate of inflation.
According to Balogun, "The CBN, along with the. Bankers' Committee, have reiterated a people focused vision to ensure that the policies of the CBN and the action of the banking community impact favourably on the average Nigerian. 
  'In addition, the developmental activities of the CBN will continue, likely to see continued focus on agriculture and SMEs. 
   'We are also likely to see a sharper focus on power sector  by ensuring that the existing power assets of the country can attain their installed capacity, rather than moving funds to new assets. That means that if we are going to focus on power, we are going to invest money in ensuring existing companies attain their full capacities rather than investing in new assets."
    Oduoza , on his part said: "We will  continue to make improvements on cash lite and loans have continued to increase, number of transactions have continued to increase, and the amount has continued to increase and we have continued to see customers migrating from banking halls to using ATMs and electronic channels as such ready to roll out nationwide beyond the current states where it has become operational.