Automation raises FAAN's revenue to N70b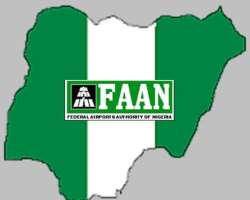 THE recent automation of the Federal Airports Authority of Nigeria (FAAN) revenue sources has boosted its earnings by 17 percent and ensured a steady progress that could yield up to N70 billion when the airport automation is completed.
  Executive member and Director of Finance, Air Transport Service Senior Staff Association (ATSSSAN), FAAN branch, Mr. Philip Emeto, disclosed that the workers want the automation but insists that it must be transparently done. He expressed satisfaction with what has been done so far to boost the agency's revenue.
   'We opposed Maevis because our investigation revealed to us, and we were convinced, that it was not transparent,' he said. 'Instead of increasing our revenue, we were losing money. At a time we stopped getting our allowances and the money paid to maintain the airports stopped coming.'
   He noted that the automation was not yet fully done, adding that while the Nnamdi Azikiwe International Airport, Abuja, has been fully automated, Lagos and Port Harcourt were yet to be fully automated. 
 FAAN General Manager, Corporate Communications, Yakubu Dati, said the agency was largely kept in the dark in the automation carried out in the past because the concession model was handled by external company 'in a black box to FAAN' and therefore was not transparent.