MGI: Agric, 3 other sectors to contribute $800bn to Nigeria's GDP by 2030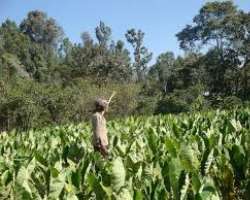 MGI: Agric, 3 other sectors to contribute $800bn to Nigeria€™s GDP by 2030
Notwithstanding the security challenges in the country, a globally acclaimed economic institute has posted a bullish projection of the Nigerian economy in the years ahead.
A report by the McKinsey Global Institute (MGI)—the business and economics arm of world acclaimed McKinsey & Company, foresees that four sectors—agriculture, trade, manufacturing and infrastructure could contribute about $800 billion to Nigeria's current gross domestic product (GDP) of $510 billion by 2030,
These four sectors accounted for $251 billion of $510 billion size of the economy in 2013, going by the rebased GDP.
The MGI's report titled "Nigeria's Renewal: Delivering Inclusive Growth in Africa's Largest Economy", which  took a bottom-up analysis of the potential GDP contribution from agriculture, trade, manufacturing and infrastructure by 2030, project these sectors as among the most important in driving productivity and contributing to inclusive growth in Nigeria
"We estimate that together, these four industries could account for $775 billion of GDP by 2030, up from $251 billion in 2013. In our full report, to be released later this year, the McKinsey Global Institute will project the upside potential for the entire Nigerian economy based on the latest set of rebased data," the report said.
Giving a sector by sector analysis, the MGI report estimated that trade (wholesale and retail) could continue to show strong growth to 2030 (about 7 per cent annually), resulting in a yearly industry contribution of $270 billion by 2030—up from $85 billion in 2013.
"This growth would be driven primarily by rapidly rising household consumption as Nigeria's average income rises along with continued strong GDP growth. Based on our analysis, household consumption of consumer goods could grow by 7 per cent a year to 2030, which could result in a similar growth rate in wholesale and retail trade," the MGI report said.
The report also indicated that Nigeria could more than double agricultural sector output, from $112 billion per annum in 2013 to $227 billion by 2030, raising the annual growth rate to 4.2 per cent, from 2.6 per cent in recent years.
"Capturing this potential would require a four-pronged approach—boosting yields, shifting more production into high value crops, reducing post-harvest and distribution losses, and increasing scale production. The biggest opportunity in agriculture is improving crop yields, which accounts for 39 per cent of the upside potential. Rice yield in Nigeria today are only 71 per cent of South African levels and 36 per cent of Brazil's. Cassava yields are half Indian levels. We believe yields could reach approximately half their ecological potential (based on soil and climate types, as determined by the UN Food and Agriculture Organisation), rising by around 40 per cent on average and creating overall value of $45 billion per year by 2030," MGI said.
On the manufacturing sector, the MGI said the sector is a t a relatively early stage of development in Nigeria, contributing $35 billion, or about 7 per cent of GDP in Nigeria, adding that it has , however, achieved strong growth recently, with output rising by 13 per cent per year from 2010 to 2013.
"We expect the growth rate to moderate over the longer term; double-digit growth rates are seldom maintained over a 20-year time horizon. From 1990 to 2010, China and Vietnam were the only economies of significant size that were able maintain manufacturing value-added growth rates above 8 per cent (118 per cent and 10.6 per cent, respectively)
"We believe Nigeria is more likely to follow the pattern seen in high-growth developing countries such as Indonesia, Malaysia, and Thailand during their periods of strongest expansion in manufacturing. The contribution of manufacturing to GDP at the start of these countries' growth periods is much more like that of Nigeria today than those of China or Vietnam in the early 1990s…," said the MGI report.
It also dwelt on infrastructure as one of the four sectors that could contribute close to $800 billion to Nigeria's GDP by 2030, adding that while infrastructure is not defined as a single sector in national accounts, "in the analysis, we consider core infrastructure sectors (constitution, transportation and storage, electricity, gas and steam supply, and water supply, sewage and waste management) and real estate".
The report posited that there was a huge need for investment in infrastructure in the country, adding that based on extensive analysis of available data and interviews with stakeholders in the country, it estimated that "there is a potential for the investment of $871 billion in core infrastructure through 2030 to support an upside GDP growth scenario.
The bulk of the investment would be in electricity and transportation systems, but there is a significant need in telecommunications and water infrastructure, the report added.
"Nigeria also presents a large potential opportunity for real estate investment, if effective reforms in the regulation of foreign investment and land ownership can be enacted, the report said, noting that despite similar income levels as Nigeria's, have built significantly more residential, commercial, and industrial space than Nigeria.
"To close just half the current gap with those two countries by 2030, Nigeria would need to invest a further $644 billion. This would lift the contribution of the rweal estate sector to GDP by $37 billion to $41 billion in 2030. Between core infrastructure and real estate investments, total infrastructure in Nigeria could reach $1.5 trillion between 2014 and 2030 in an upside scenario. In total, infrastructure could contribute $134 billion to GDP in 2030, up from $19 billion in 2013, achieving an annual growth rate of 12.3 per cent over the period," the report said.
Meanwhile, financial services and communications company, Western Union, says it is still studying whether the recent directive by Nigeria's apex bank—Central Bank of Nigeria (CBN) that remittances in foreign currencies should be paid to the ultimate beneficiaries in the local currency (Naira), using the prevailing exchange rates.
Western Union's Vice President (African Region), Mrs. Aida Diarra, who fielded questions from THISDAY at the sidelines of the recently concluded World Economic Forum on Africa, in Abuja, said Nigeria remained one of the two leading African countries in terms of remittances, but noted that her company was yet to establish whether the CBN directive has any impact on remittances or not.
She, however, noted that Nigeria accounted for about $21 billion remittances from the Diaspora in 2013, noting that close to $70 billion remittances are recorded on the African continent annually.