Anglican Priests Commend Capt. Ihenacho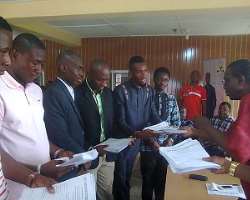 The immediate past country's Minister of Interior Capt. Emmanuel Ihenacho has continued to emphasize that the country's over dependence on consumption of foreign goods has been the cause of mass unemployment in the country.
The former Minister made this remark while addressing some members of the clergy from the Anglican Diocese of Egbu at St. John's Church Naze in Owerri West Local Government of Imo State recently.
The master mariner who is also the Chief Executive of Genesis Shipping line recounted how an ordinary secondary school graduate had numerous job opportunities immediately after school in the past.
He also challenged the people of Imo State to make sure that the antecedents of all political power seekers are critically examined before they are entrusted with public governance.
'If you get into any supermarket in Imo State today, you will find mainly foreign products. The manufacturing of these products has created jobs for the exporting nations leaving us only at the consumption end. This invariably has made us redundant. I remember as a new school leaver in those days, I got two job employments in day. How many of our youths today can boast of working in a factory. This is because the industries are not there.'

Speaking further, the former minister said that the problem with the poor governance in the state is because many people without vision and who sometimes are of questionable character and antecedents find themselves in leadership positions.

'We have come to the stage where we will know who will rule us. If you say you are wealthy and you want to rule us, we must investigate the source of your wealth. Anybody who must rule us must be a person of known good antecedents, an upright person with integrity. The person must present to the public his programme and how to achieve the programme. The era of becoming a ruler by 'accident' is over.'.

Reacting, the Ven. Geofrey Chima described Imo State as a state which its politics has outgrown party, religious and sectional sentiments but that the people are after politics that will bring development.

Further, while remarking that the incumbent governor of the state was the best option during the 2011, the cleric however stated that he had heard many good testimonies about the former minister and that he was also impressed by the superiority of his vision.

On his own part, the Rev Canon Emma Ahumibe described the former minister a humble and descent man that is easily accessible to the public.

Many priests, who spoke at the event among other things, also commended the former minister especially for giving jobs to a lot of Imo youths when he was a minister.