Sanusi: The making of an Emir - Leadership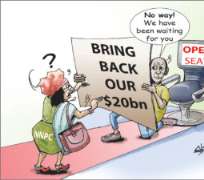 The elevation of Mallam Sanusi Lamido Sanusi to the ancient throne of his forefathers in the historic city of Kano, known for commerce and Islamic learning brought all speculation about succession after the long reign of the late Emir Ado Bayero to an end. We join millions of Nigerians and friends of Nigeria to congratulate the new emir and to wish him a successful reign. Power comes from God; man is only a temporary caretaker. It is in that context that we urge all those who may not have endorsed the candidacy of Sanusi to join hands with the new traditional and religious leader, to sustain the worthy legacy of the late Emir Bayero.
Anyone familiar with the history of Kano and its importance to the wellbeing of the entire northern Nigeria would appreciate the need for temperance on the part of the new emir, especially considering the circumstances of his ascension to the throne. One unfortunate burden of the royal race was the heavy shadow of partisan politics that was cast over the exercise. Now that the race is over, it behoves Alhaji Sanusi to bring the entire royal family together and work tirelessly for the material and spiritual advancement of Kano as father of all. Those who are trying to portray the new emir as belonging to their political persuasion do the throne of Kano grievous harm. Every traditional ruler has to earn the respect and admiration of his people and must not be seen as leader of only a section thereof. Politicians will come and go, but the throne of Kano will endure. Emir Sanusi must therefore send unmistakable signals that he is above partisan politics. No longer should anyone be allowed to drag his name into the murky fray of politics, for in doing so, they taint his name and the sacred throne he occupies.
Having acquired the best of both Islamic and Western education and having excelled so brilliantly in his professional life as a banker, Emir Sanusi has what it takes to make a success of the new assignment that God has thrust on him. He knows, more than anybody else does, that he must be an embodiment of justice and must be seen to be a personification of Islamic virtues. Old things must pass away - even pervasive presence in the social media - unless they advance the cause of uniting the people of Kano and the socio-economic development of the emirate. In addition, the emir must be the foremost ambassador of Kano culture without discounting its distinguished reputation as a melting pot and home for all. It is our prayer that Almighty Allah who has put Sanusi on the throne will grant him the sagacity to navigate the waters successfully.