NGF: The world has gone beyond military rule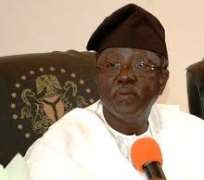 The David Jang-led faction of Ni­geria Gover­nors' Forum (NGF) has faulted the recent call for military intervention in Nigeria.
Chairman of the group, Gov David Jang of Plateau State, de­scribed the statement credited to former Managing Director of Nigerian Breweries Plc, Mr. Festus Odimegwu, as disturbing and surprising.
Odimegwu whose short term as chair­man of the  National Population Commis­sion (NPC), Mr. Fes­tus Odimegwu, ended in murky circumstances was reported to have advo­cated military rule in an interview with This Day.
Jang in a statement by the Sole Adminis­trator of the Forum, Earl Osaro Onaiwu, advised the for­mer NPC chairman to refrain from calling for military rule, remind­ing saying that the world has since gone beyond military adventure into political turf.
The Forum's chair­man further said a comparison of the gi­ant strides the nation had witnessed within 15 years of civil­ian rule were a sharp contrast to the under development of the country which was the hallmark of decades of military rule.Jang said no Nigerian would like to experience a re­turn to military rule in the history of the coun­try. Also, he urged the military to disregard the call.
'We call on all Nige­rians to resist every at­tempt to denigrate ci­vilian rule, but instead, do a personal evalua­tion and will find that civilian rule has been of immense benefit to all, even though we still have a long way to go owing to the many years of zero invest­ment in basic infra­structure,' Jang said in the statement.
However, he com­mended military per­sonnel for their sacri­fice in the fight against terrorism and urged them to remain fo­cused and committed to their primary role of providing peace and security
Disclaimer:

"The views/contents expressed in this article are the sole responsibility of

The Rainbow

and do not necessarily reflect those of The Nigerian Voice. The Nigerian Voice will not be responsible or liable for any inaccurate or incorrect statements contained in this article."