Court over rules police order stopping rallies for abducted Chibok girls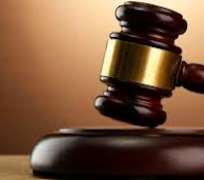 An High Court presided by Justice Abubakar Talba Wednesday ruled that the police have not right to outlaw rallies and peaceful demonstrations in the country.
According to the court, the Nigeria Police Force (NPF) does not have the powers to prevent or stop rallies or processions with regards to the abducted 270 students of the Federal Government College, Chibok, Borno State.
Justice Talba held that the Public Order Act, Cap 382 Laws of Nigeria 1990, which the Police purportedly relied on, 'does not authorise men of the NPF to disrupt rallies or processions on the issue of the abducted Chibok girls.'
Former House of Representatives member, Dino Melaye, had gone to court to challenge the disruption on May 9, 2014 of the rally he led in Abuja in relation to the girls abducted by Boko Haram.
The judge declared as unconstitutional the arrest of, and assault on Melaye by men of the NPF during the May 9 rally in Abuja.
The court added as the respondents failed to file any counter process to the one filed by Melaye, there was an admission of the allegations made against them by the applicant.
It therefore ordered the IGP and CP, FCT to 'tender a written apology to the applicant as provided for under Section 35 (6) of the Constitution of the Federal Republic of Nigeria (as amended).
Justice Talba also ruled that order of perpetual injunction restraining the respondents and their agents from further 'harassing, molesting, intimidating, abducting, arresting, detaining and prosecuting the applicant in respect of peaceful rallies or procession in Abuja or any part of Nigeria.'
Justice Talba awarded N150,000 as damages and cost against the respondents in favour of the applicant.
Melaye had sued the respondents shortly after he was arrested and molested by policemen during the May 9 rally in Abuja, which he led to protest the Federal Government's seeming inaction over the April 14 abduction of the Chibok girls.
The former lawmaker, in an supporting affidavit deposed to by his lawyer, Reuben Egwuaba, had said that 'men of the NPF, under the instruction of the 1st and 2nd respondents, came to the venue of the rallies to arrest the applicant and forcefully beat the applicant on ground that the rallies or possession should be suspended by the applicant and his group.