2015 Owerri Senatorial Seat: The Pressure Keeps Mounting On Asoluka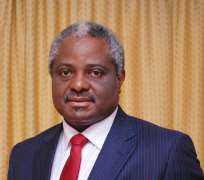 That great philosopher, Hippocrates, postulates that, 'there are in fact two things continually contending to explain nature': these are science and opinion. According to him, the former (science) begets knowledge and the latter (opinion) begets ignorance. In other words, anyone who holds to his opinion tenaciously as if no other (opinion) matters is bound to die ignorant of new knowledge and development.
Which reminds me of the role opinion played in the process that played out at the onset of the 4th Republic in 1999 when democracy berthed at our shores. Nigerians more or less treated its arrival with apathy. Many doubted its survival, as there were still the carcasses of the military everywhere reminding us of our dark days.
Yes those dark days in our recent history! The era was notorious for crass opportunism, which was rampant among the top military brass with the concomitant distrust by the people for the high and mighty. The consequence was the unrewarding mainstream opinion that transfixed a majority to cynicism, which ushered in not just political apathy but absence of trust and belief in the system.
Today, about fifteen years after, the lesson is that Nigerians have, in tandem with the rest of the advanced world, embraced democracy and its' principles as the best form of government. The fact is that political awareness has increased a great deal; a far cry from 1999 when core civilians shied away and allowed the military brass to fill and dominate the political landscape. It is a tinge of joy to recall that then a presidential candidate must first secure the endorsement of the generals before coming to see the electorates. Thank God, all that is giving way to the democracy, which is government of the majority. The people seem to be recovering from their political slumber. They are now searching and ready to make political judgment for themselves. Very interestingly the electorates now have a voice; they can indicate preference in the candidates of their choice. Opinions and attitudes seem to have changed about politics.
Today particularly in highly sensitized states like Imo, the people have arisen, holding the Key as it were. Every responsible party that wants to secure the mandate of the people must therefore shun primordial sentiments, petit considerations and go for their best candidate for any elective position otherwise the electorates will throw sympathy votes against the party, notwithstanding its appeal, for fielding a wrong candidate. The South-East zone is in a minority position at the National Assembly so we must send our first eleven to make impact. For a party like the Peoples Democratic Party, which has a myriad of aspirants for every position, the party needs to work hard to correct its mistakes of the past general election which revolved around fielding some wrong candidates in various places and fraudulent party premises.
Owerri zone (Imo East Senatorial Zone) is a good example of a wrong candidate, which robbed off negatively on the party. Under one week to the POP Primary election in 2011, Hon Chris Asoluka who as a result of his personage and enviable track record seemed to be coasting home to grab its ticket. He had both the sympathy and support of the majority of the electorates from the zone but in a flash he was substituted with Ambassador Mrs. Kema Chikwe. Although Ambassador Chikwe is not a hard sell any day, selling her candidature and the timing did not blend with the peoples thinking. They were craving for Okwuruoha, Dr Chris Asoluka. The people threw protest votes for APGA and Senator Chris Anyanwu another great orator became the beneficiary.
Recently, we watched Dr Chris Asoluka with other party leaders at a fund-raising organized by the party. While the event was going on, a colleague of mine was telling me that if the POP is serious (as I think they are) about capturing back Imo in 2015, they should woo Chief Asoluka who has always shown loyalty to the party and whose commitment to team is legendary. Recall that despite being unfairly treated on more than one occasion by the party, he respected its judgment and bowed to gender sentiment. To urge him therefore to declare for the .Owerri zone Senate in 2015 with an assurance that the ticket belongs to him is surely a healing balm for him and the zone.
However, there are cogent reasons for parties to hold their primary elections but in rare cases such as now; the party should give the right of first choice to the vibrant speaker to represent Owerri at the Senate. I say this because I am from Owerri Zone and we demand no less. He is one very highly learned, sophisticated, adequately endowed with brain and brass yet humane. He is solidly connected with his people. He is one man I know who like the red wine we all enjoy gets humbler, approachable, caring and in a word BETTER with age and accomplishments.
His oratory can only be compared with that of other Cicero, in the league of Dr. Chuba Okadigbo of blessed memory. This quality combined with his deep understanding of the Senate, where he has been a longstanding consultant, is partly the reason the good people of Owerri zone want Okwuruoha at the Senate. This is where his ilk belong, deploying their talents for fatherland and constituencies. He would no doubt stand shoulders higher than most of his colleagues. As an aside, I must use this medium to commend Senator Chris Anyanwu for her able representation and pleasant visibility she has given Owerri zone. Owerri Zone cannot afford a diminished and uninspiring -representation come 2015 when, as we know from emerging trends, that the Senate is now a club of former governors, ministers and the intelligentsia.
This fact remains that the Senate in 2015 demands tested personages whose character, clout competence and capacity are not in doubt. We do not want to send in a baby or pupil Senator who naturally will be a bench warmer, a listener and not a contributor. Or at best an attendant or personal assistant to others. Perhaps it is apposite to quote one of his pithy descriptions of an effective representative at the centre. Dr. Asoluka without tiring tells his audience of the need, and would be a blessing, for any group to have 'a man or woman filled with God's grace, wisdom, knowledge, influence and exposure. Representatives, who know their brief, should be key members of the agenda-setting clique and constant players in national issues. In the process this representative turns national attention to the problems of his/her constituency, creating a greater space, opportunity and resource conduit for the people to derive the maximum dividend from the national patrimony'.
Not surprisingly there has been a tsunami of unrelenting moves to conscript him to contest while many others have continued to endorse Okwuruoha for Senate in 2015. The Students Union Government (SUG), as representatives of all the tertiary institutions in Imo namely- IMSU, ALVAN, FECOLART, IMO POLY, FEDERAL POLY and FUTO, were the first to urge Okwuruoha to run for Senate.
Two months ago, the National Association of Polytechnic Students (NAPS) defied the on-going strike to invite Dr. Chris Asoluka to do what he does best - deliver a talk on Students' After-College Challenges, leadership and Innovation. Indeed the audience was so raptured, enriched and motivated that the National President of NAPS Comr. Ogbonnaya Sunday moved a double-barrel motion that the entire membership of NAPS urged him to declare for Senate NOW with NAPS ready to do a solidarity march or on refusal face the wrath of the youth! The motion was seconded by no lesser student leader than the NAPS Senate President Comr Salahudeen Lukman and was unanimously passed.
No less compelling has been the string of visits by various youth bodies including the Mbaise Federation of Students, the Owerri Zonal Youth Forum, the Imo Young Professionals and the Owerri Pen Professionals Forum - a forum of media practitioners from Owerri Zone led by Prince Austin Madu who were about the first on the very long list to endorse this clarion call by the students. Other groups and associations including women, the disabled, widows and religious groups have also joined this call especially in their various goodwill solidarity messages on Dr Chris Asoluka's 59th birthday, which was on the first day of May 2015 (a remarkable day devoted to the cause of workers tagged Labour Day!). All they say in unison is that Okwuruoha should not deny Owerri Zone of his voice, wisdom, reach and solid representation at the Senate Chambers in 2015. The privilege of God's Grace on him, like the lamp, cannot be hidden under the bushel.
The most recent of the supporters of Chris Asoluka for Senate were members of the National Council of Scouts of Nigeria, which recently at his Ihiagwa country home made him, a national Patron of the Association. The Deputy Chief Scout, Rev. Father Matthias Opara, led the impressive delegation, which included top echelon of Scouts and Scouters in the State such as the Imo State Commissioner Hon Dr Ken Obichere, National Commissioner, Barrister CJ. Ihemedu, and other State Commissioners and members. While conferring the Okwuruoha with the coveted status of patron, Rev Father Opara noted that, 'Hon Chris Asoluka has maintained exemplary leadership qualities, vision, discipline, integrity, trust, sacrifice and submission to God's will in his public life'.
These were virtues, according to him, 'the Scout movement espouses and the body remains committed to regenerate these values in our society. Dr. Asoluka is here inaugurated, not inducted, in recognition of the fact that he has remained a true example of the high moral principle the Scout Movement holds dear and this is not an honour but a statement that Nigeria is in dire need of credible mentors to our youth.' In his brief but moving response, Chief Asoluka traced his fifty years membership to the movement, avowing that the honours was extremely cherished and has challenged him to serve God and man better.
Recalling his very young but interesting childhood as a first class scout at ten, he confessed that apart from Scriptural principles and family values, credit must go to the Scout movement for all he stands for today - be it in character formation, mental development, leadership training and followership, keen sense of duty and sacrifice for God and humanity. It was indeed an opportunity to take glimpse at the quintessential Chris Chigoziri Asoluka.
In spite of all the pressure, promptings and popularity, Asoluka would always say to the groups that he 'is still consulting, for the essence of politics is public service, not imposing oneself as mkpi amodioha'. He is yet to declare interest publicly. I guess he wants to get an unequivocal endorsement from the party.
However, an impeccable source told this writer that Okwuruoha, the chairman of the Governing Board of Oil and Gas Free Zone Authority is, as in all his assignments, deeply involved at policy reengineering to resuscitate the fortune of a dormant parastatal, which he has been able to do by ensuring the enactment of a record three subsidiary legislations under nine months designed to be strengthen the international competitiveness of OGFZA. What a fit with its collateral benefits to our people. Same source yet hinted that probably Okwuruoha is waiting on his boss President Goodluck Jonathan to declare his 2nd term aspiration before his statement on 2015. Until then, the pressure has kept mounting unceasingly.