How to end insurgency in Nigeria: Abdulsalam Abubakar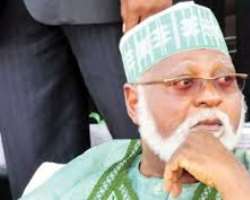 How to end insurgency in Nigeria: Abdulsalam Abubakar
Former Nigeria's Head of State, General Abdulsalam  Abubakar, see the Boko Haram insurgency that has left the country devastated for months a passing phase which will peter out sooner than later.
According to him, there is no doubt the country will overcome all the challenges and take its rightful place in the league of prosperous nations.
The former head of state spoke at the inauguration of Ilorin General Hospital in Ilorin, on Tuesday.
For him, the lasting solution to the insurgency will come in the form of good governance and provision of social amenities to the people.
He enjoined government at all levels to continue to implement programmes and projects that would elevate people and provide them with sustainable standard of living that would discourage them from social vices.
'As someone who has watched our country triumph over a civil war and several other crises and had the privilege of supervising our country's return to democracy, I am troubled by the challenges that are currently confronting our country,' he said.
'Indeed, acts of good governance such as demonstrated by your government's youth development efforts and today's opening of this beautiful edifice as well as the entrenchment of equity and justice can hold the promise of restoring our people's faith in this country and strengthening our preparedness to work together to build the Nigeria we all desire and deserve,' he said.
He also said the determination to put the hospital back to shape was a clear confirmation of the state government's love for the people, adding that it was also a determination to positively affect the people's lives.
While congratulating the beneficiaries of the general hospital, General Abdulsalam urged the people to make the best use of the facilities, through effective patronage to meet their health needs, adding that it was only in so doing that they could justify the government's huge investment in the scheme.
He said  Kwara State, from its ancient origins to its emergence as a civil service state, had transformed into a growing economic hub and, therefore, deserved a befitting modern general hospital, especially in view of recent expansion of its population.
Also speaking, Governor Abdulfatah Ahmed said after his administration had remodelled and upgraded Offa, Share, Kaiama and Omu-Aran General Hospitals, it opened the Ilorin General Hospital as a further testament to the resolve to bring functioning healthcare system to the doorstep of every Kwaran.
Disclaimer:

"The views/contents expressed in this article are the sole responsibility of the author(s) and do not necessarily reflect those of The Nigerian Voice. The Nigerian Voice will not be responsible or liable for any inaccurate or incorrect statements contained in this article."