Jonathan inaugurates 1,000 housing units for police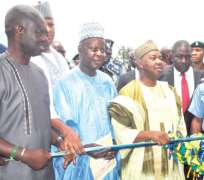 As part of its efforts to boost the morale of officers and the rank and file of the Nigeria Police Force (NPF), the Federal Government, on Tuesday, inaugurated 1,000 housing units to be distributed to policemen on owner-occupier basis.
Named Sunday Adewusi Housing Estate, the sixth former indigenous Inspector-General of Police (IGP), the mixed one-bedroom to three-bedroom detached and semi-detatched bungalows are located in Dakwa Dei-Dei, a suburb of the Federal Capital Territory (FCT).
Performing the inauguration on behalf of President Goodluck Jonathan, Vice-President Namadi Sambo stated that having carried out similar assignments in other parts of the country, it was obvious that the Police Management Team was determined to improve on the welfare of police officers nationwide.
He confirmed that so far, 2,000 residential housing units had been commissioned by the police and called on them to ensure they were properly maintained.
Also speaking on the occasion, the chairman, House Committee on Police Affairs, Usman Kumo, lamented that the security situation in the country called for an urgent  ways of addressing the cankerworm.
According to him, if the police officers and other security agencies were given adequate logistics to fight the insurgency in the country, they would defeat the terrorists without wasting time.
He said: 'We need to do something urgently on the building of the security agencies in the country, let us take a drastic measure, and tackle the cankerworm called insurgency.'
Kumo added that if the security agencies were properly funded, they would face the terrorists and defeat them, because the foreigners Nigeria was calling to assist  were not better trained.
The Inspector General of Police (IGP), Mohammed Abubakar; Chairman of the Police Service Commission (PSC), Chief Mike Okiro; Minister of Police Affairs, Alhaji Abduljelili Adesiyan and Chairman, Senate Committee on Police Affairs, Senator Paulinus Nwagwu, explained that the project was executed   through a Public Private Partnership (PPP) facilitated by the Federal Mortgage Bank.