Bomb Scare At Wuse Market Abuja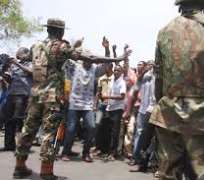 There was bomb scare in Wuse area of Abuja, Nigeria's capital Tuesday. Residents woke up to see that all the roads that lead to popular Wuse market were barricaded by the police.
A policeman who spoke anonymously to our correspondent said that 'Boko Haram planned to bomb the market today, that is why this market will remain closed until we are told to  leave. '
Economic activities in the market have declined since the Boko Haram insurgents bombed Nyanya bus terminus in Abuja.
Today shop owners were denied access to the market. One of the shop owners who preferred  anonymity, said that there have been several bomb threats before today.
'It is just by the grace of God that we are here everyday,' the shop owner said.
Shop owners and sales boys gathered in groups discussing  the bomb threat when P.M.NEWS correspondent visited the market this morning.
Many are already counting their losses due to the closure of the market.
A woman who said she came to the market today to pick her international passport she forgot in the shop yesterday, lamented that she might not be able to travel this night if police deny her access to the market to pick her passport .
She added that she had stayed away from the market  for two weeks because of the bomb threat.
'My husband has warned me to stay away, 'she said.
Also, a man who simply introduced himself as Gideon who sells fabrics said he comes once in a while to the market to pick some fabrics to his house to sell to his client.
Meanwhile, at the time of this report, there  was heavy traffic jam on Jabi road and Sheraton axis as motorists were being directed by security personnel to take other routes. Pm news