$1.8Bn subsidy scam: EFCC opposes Mahmud Tukur's move to quash charges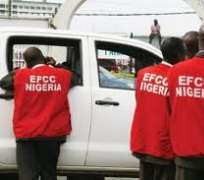 The Economic and Financial Crimes Commission (EFCC) has moved to stop the bid by , has by Mahmud Tukur and his cohorts to quash the charges against them in $1.8billion subsidy scam trial.
Tukur, son of the immediate past chairman of Peoples Democratic Party, is standing trial alongside, Ochonogor Alex, Abdulahi Alao and Eterna Plc.
Counsel to the EFCC, Rotimi Jacobs, SAN, prayed the court not to entertain the submissions of the defence team led by Tayo Oyetibo, SAN, to quash the charges against Tukur and others.
Oyetibo had argued that the charges preferred against the accused persons should not be entertained by the court because it was their company, Eternal Plc that committed the crime imputed to them.
Jacobs at the resumed trial on Monday pointed out that the position of the law, on the issue, is that 'a company on its own cannot commit a crime or act on its own but must use human agents'.
He further submitted that, the company, without the human agents, cannot answer to the alleged crime and that the roles played by the accused persons were clearly stated in their statements.
He prayed the court to 'look at the statement of the first accused(Mahmud Tukur) who gave a vivid account of the transaction and how he signed for the monies paid into the account of the 4th defendant(Eterna Plc).'
Jacobs further submitted that Tukur's statement shows his involvement in the transaction that led to the charge. Besides, he said the accused is involved in the day- to- day-running of the affairs of the company and that Ochonogor as Director of Finance during this period, played major role in the importation and transfer of licence. 'So, Tukur and Ochonogor are qualified to be charged together with Eterna Plc, as defined under the Criminal Code Law of Lagos State,' he submitted.
After listening to the arguments of counsel, Justice Akapo adjourned the matter to June 27, 2014, for ruling.