Endless Lamentations Of Kalu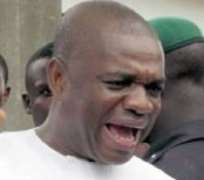 Kalu's lamentations will never end. His message read by a very disillusive aide at a retreat in Port Harcourt recently says much about the torments Kalu is passing through. He is in deep melancholy in spite of his stolen riches. We are used to Kalu's jibes and innuendos but this time, he spoke from the subconscious. I am not surprised at Kalu's moans. It is his typical refrain. Who are the wolves in sheep's clothing and animals in human form if not Kalu?
In this same gathering Rochas Okorocha came out with a powerful postulation that suits Kalu like a second skin. According to Rochas 'who you are before office means a lot. If we elect a criminal into office he will simply become excellent criminal.' Kalu was simply a fraudster, remember when he donated papers cut into sizings of money, remember his forged certificate that bedeviled him in the first year of his tenure. His enlisting in Abia State University and the retrieval of his unfortunate degree clearly shows that he had no certificates before becoming a governor.
Remember Hon. Ubani's many articles on Orji. Orji was a dupe that took on many people to the extent that a law court in Lagos seized all his property. It is on record how he got entangled into a drug scam in London and Alex Mbakwe who was surety with his property lost out as Kalu jumped bail.
He never had The Sun Newspapers, Slok Air and other things he is boasting with and all that he claims now. They were all bought with looted money from Abia State coffers. In that same gathering Prof Jinadu came with another apt situation faced by past governors, those who cannot separate the office and self mostly due to overzealous love for lucre.
That gathering is a good one and Kalu fell into a trap making it clearly obvious that he is still brooding over his loss. We know those who will survive psychologically. Abiola Ajumobi wants to be A PREACHER, Nyako is in a hurry to go back to his farms. kalu wanted to continue ruling by proxy. Kalu is the real animal who did not know that his time in office is gone. He has refused to forget issues in Abia and continue as the evil Godfather. Let him continue. He will get more shocks and embarrassment. Abia people are wiser and have sworn that never again will they elect a no-name howler like Kalu.
Disclaimer:

"The views/contents expressed in this article are the sole responsibility of

TONY IBE

and do not necessarily reflect those of The Nigerian Voice. The Nigerian Voice will not be responsible or liable for any inaccurate or incorrect statements contained in this article."