UK-FRENCH AID WORKER DESCRIBES DARFUR HOSTAGE ORDEAL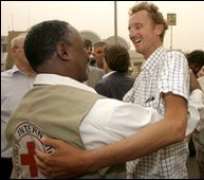 The longest-held foreign hostage in the Sudanese region of Darfur has said he was not mistreated, but faced a "daily struggle" to stay positive.
Gauthier Lefevre, a 35-year-old French-British aid worker, spoke about his 147-day ordeal in the Sudanese capital Khartoum, two days after his release.
He said he was moved around regularly, and had been held in mountain camps or isolated in vast expanses of savannah.
He said Sudanese agents eventually made contact and rescued him by helicopter.
Mr Lefevre, who works for the International Committee of the Red Cross (ICRC), was the last foreign hostage being held in Darfur.
He was seized by gunmen near the Chadian border last October.
Although a major Darfur rebel group last month signed a peace deal with the government, the region remains unstable and armed robberies and low-level crime are rife.
Mr Lefevre said he fought feelings of despair during his captivity.
"You do spend a lot of time sitting on a dirty blanket and not having much to do and wondering about what is going on, when you will be released, what will happen," he said.
"You feel the time stops and it is difficult to remind yourself that of course the ICRC colleagues and lot of people are involved in trying to secure my release."
He said his captors appeared to be organised criminals as "it was pretty clear they were just after money" and had no intention of harming him.
The ICRC's Sudan spokesman, Saleh Dabbakeh, has said that no ransom was paid despite the abductors' demands.
Mr Lefevre said his rescue was sudden. He was approached by two Sudanese security agents one evening when he was left alone for the night at his camp.
"[They] turned up and said 'Let's go'. We walked for about three hours, a car was waiting for us and we drove through the night and got to the helicopter… There was no violence at all."
Mr Lefevre said he plans to return to Paris before flying on to his wife's native Australia.