Tributes pour in as Emir of Kano is buried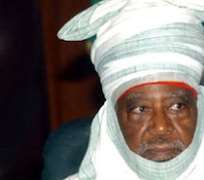 The late Emir of Kano, Alhaji Ado Abdullahi Bayero was buried around 6:15 p.m. on Friday 6 June. An unprecedented crowd graced his main palace in the heart of the city as he was laid down at Gidan Nasarawa, along State Road in Kano northwest Nigeria, where his remains was interred.
Sarki Abbas, Sarki Aalhaji Abdullahi Bayero, Sir Muhammadu Sanusi and Sarki Muhammadu Inuwa all former Emirs were also buried there.
Scores of his subjects fainted as they sighted the Emir's corpse wrapped in black and yellow stripes cloth.
Governor Rabi'u Musa Kwankwaso hurriedly left Port Harcourt to Kano to attend the Emir's funeral but missed it as he arrived Kano 30 minutes after the burial.
Even the Emir's bosom friend, Sheikh Ishyaku Rabiu, business man and religious leader slumped upon hearing the news of the death of Emir Ado Bayero. P.M.NEWS gathered.
Emir Bayero's Chief driver, Alhaji Wada Abdulhamidu said the late Emir Bayero was a peaceful man. 'I came across the late Emir Ado Bayero when I was 10 years old. I have been working for him for over 60 years, now I am 70 years old. I have been the one driving him around. I was with him until he drew his last breathe.
'I was just like a younger brother to him. He does not discriminate. He is always calm and peaceful, slow to anger and he accommodates every opinion. He never looked down at people. You hardly can see anything that perturbed the Emir.'
A mournful Abdulhamidu said: 'Based on his teachings to us, we also exhibited friendliness with people around us. He is a father of all. The Emir spent his last moment with members of his family after which he left to sleep in his room, but did not wake up the next morning as he died peacefully in his sleep.'
Alhaji Ibrahim El-Yakubu, a close associate of the Emir who grew up with him said he lost a bosom friend. The 82-year old man said it was a huge loss. 'This loss is a very painful one to me. He showed me compassion, care, trust and loved me just as I loved him.
'You are aware he just came back from a medical checkup and he was very okay. I was supposed to be with him on Saturday, but now I cannot. He is gone and I wait until the day I meet with him over there. May God give us the grace to get a successor that will live by his legacies.'
Paying his tribute to the late Emir, elder statesman, Alhaji Tanko Yakasai said: 'The death of His Royal Highness is a great loss not only to his immediate family, the people of Kano, but to the entire Nigerian nation. By his death, Nigeria has lost one of it's leading figures.
'Alhaji Ado Bayero is one of the few Nigeria's traditional rulers who ascended the throne during the First Republic and was blessed with wisdom and rich experience. He was a man of great charisma, diligence and personality. He enjoyed tremendous respect and admiration throughout his tenure as a First Class traditional ruler.'
Prof. Dantati Abdulkadir, former Vice Chancellor of Bayero University, (BUK) said it will be difficult to get somebody with same character like Emir Ado Bayero to occupy the Kano throne. 'I knew Emir Ado Bayero when I was in secondary school then he was a chief police officer of Kano Native Authority. Since that time, I was very close to him and I have been following him. He was a man of integrity. He was a patient man, a just leader who regarded all citizens as his sons and daughters. He never discriminated.'
Former Speaker of House of Representatives, Alhaji Umar Ghali Na'Abba who spoke to our correspondent at the grave yard described the late Emir Ado Bayero as a father. 'He was not only my Emir but a father to me. He was very close to my parents and I grew up knowing him and I really cherished him a lot. The late Emir had a very important sense of honour, he was a very purposeful character. One thing I cannot forget about him in hurry is his purpose of honouring time.
'He would always keep to time. He was a leader who led by example. He was a very wise councilor that most of us political office holder got very wise council from him. We will miss him for that. Kano people and Nigerians will actually miss Emir Ado Bayero's sense of organizing people to do what is right,' Na'Abba said.
Vice President Namadi Sambo led the Federal Government delegation that arrived Kano late in the morning to pay their last respect to the departed Royal Father.
Other dignitaries that arrived Kano for the Emir's burial includes Speaker of House of Representatives, Alhaji Aminu Tambuwal; former Vice President, Atiku Abubakar; National Security Adviser (NSA), Sambo Dasuki; Inspector General of Police, Mohammed Abubakar; Governor Sule Lamido of Jigawa state; Foreign Affairs Minister, Aminu Wali; former Governor of Kano state and Sardaunan Kano, Ibrahim Shekarau; Minister of Federal Capital Territory, Bala Mohammed and other top government functionaries, including traditional rulers.
Emir Ado Bayero was born to the family of Hajiya Hasiya and Abdullahi Bayero on 25 July, 1930. He was from the lineage of the Fulani Sullubawa clan that has presided over the Emirate of Kano dynasty since 1819.
The eleventh child of his father and the second of his mother, Ado Bayero was sent to live with Maikano Zagi at the age of 11. He started his education in Kano where he studied the fundamentals Islam.
He also attended Kano Middle School from where he graduated with a Certificate in Arabic Studies in 1947. He then worked as a Bank Clerk for the Bank of British West Africa until 1949, when he joined the Kano Native Police Authority.
He later attended Zaria Clerical College in 1952 and in 1954, he won a Seat to the Northern Regional House of Assembly. Ado Bayero became Head of the Kano Native Authority police division from 1957 to 1962. From there, he was appointed the Nigerian ambassador to Senegal, during which period he used to study the French language.
It was at this point that Ado Bayero was called upon to serve as the Emir of Kano in October, 1963, after the death of Emir Muhammadu Inuwa who had only been emir for three months.