BOOK REVIEW:OBAFEMI AWOLOWO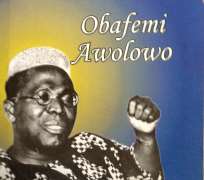 BOOK TITLE: MY EARLY LIFE, BY OBAFEMI AWOLOWO
GRNRE: PROSE
PAGES: 140 PAGES
REVIEWER: IDRIS KATIB/ES13303012
PUBLISHER: JOHN WEST PUBLICATIONS LIMITED, OGBA, LAGOS
YEAR OF PUBLICATION:1982(REVISED EDITION)
PRICE: NOT STATED
SYNOPSIS
The book is an autobiography of the late sage and Yoruba leader, Chief Obafemi Awolowo of blessed memory.The author chronicled his early life from childhood in Ikenne, a town in current Ogun State, Nigeria, to the date when he was called to the bar as a member of the Honourable Society of the Inner Temple.
Between these periods, the young Awolowo had attended several schools , been a domestic servant to four masters, gathered firewood for sale to settle his school fees and also worked as labourer in farms since he was determined to be great in life whatever it took him.
Later, he was a pupil teacher, stenographer, college clerk, newspaper reporter, money-lender, produce buyer, transporter, trade unionist, food contractor and letter writer.Much later, he became an emerging politician.
Having gone through the thick and thin at different phases of his life,a well rounded Awolowo, even before death, was referred to as a sage as he often had solutions to most human problems.
THEME OF THE BOOK
The book teaches inspiration, determination and doggedness to the youth of any generation as exemplified by the author himself. Obafemi Awolowo was an exemplar of industry and uncommon discipline. He would not quit until he achieved his target and goal.The author, through his life experience, teaches his audience that the road to any success is not a smooth one.All kinds of menial jobs he did to succeed in life justify this assertion.He was able to achieve the hight of success by dint of hard work, constant learning of new skills, saving culture, networking, power of words to persuade people and total devotion to his cause.The book teaches that success is the fruit of diligence.
Another important theme of the book is that reading makes great men of the world. Awolowo was not an exception as he got inspiration from many books he had read as a young boy in school.Many great men, Obafemi Awolowo inclusive, have garnered secrets of success from collection of books at their disposal.
PLOT
A simple plot has been used to develop the story in the book.The book is developed from Awolowo's parentage to schooling at Ikenne, how he fended for himself till he got to Wesley College, his sojourn at Nigerian Daily Times beginning as a reporter-in-training, money-lending business, his debt profile, his freedom from debt and his resolve to travel and study abroad all by himself.
The book is developed from humble rural community life to city and cosmopolitan life, from a life of a naive young man to his gradual exposure to city social amenities.
The book is compartmentalised into nine chapters. Chapter one and two discusses Awolowo's parentage; chapter three pictures his schooling at Ikenne; chapter four highlights his struggles to fend for himself; chapter five visualizes his years at Wesley College; in chapter six, he commenced work as a teacher in Wesleyan School, Ogbeh, Abeokuta and College clerk and shorthand typist at Wesley College, Ibadan. during this period, he was reading hard for his future prospects; in chapter seven, Awolowo joined fraternity of the pen as an employee of the Nigerian Daily Times; in chapter seven, he ventured into his own partnership business of money-lending; he also got engaged to his wife; he settled all his debts and chapter nine, he passed his intermediate Bachelor of Commerce Examination and was later called to bar as Barrister at Law.
LANGUAGE OF THE BOOK
It is a monologue. It is written in first person narrative.The book is an autobiography where the author did all the talking and narrative. His travails, tribulations and eventual coming to political limelight have been well documented in a simple past tense, simple past continuous tense and past perfect tense. In some instances, he reproduced some correspondence between him and other people.The language of the book is lucid, didactic and instructional.The author was a master of language and idiomatic expression as he portrayed vividly with words, pictures and scenes of happenings of his personal experience to his readers.
The language employed by the writer easily conveys the reader to the scenes of the event as though they were fresh.The writer wielded a good command of grammar and syntax. This is obvious from the beginning of the work to the end.
STYLE
The author has employed a simple narrative prose suitable for short stories and journalistic piece.He was at piece with his diction, punctuation and choices of sentences.The British style of writing is consistent throughout the book.The author tried as much as possible to translate certain words and expressions from Yoruba to English.Words like gidigbo( wrestling),sokoto, buba and agbada(trousers, shirts and blazers) are well reflected for readers' understanding.
The book shows that the author was a good letter writer. He communicated most important messages to their recipients in letters which he reproduced verbatim in the book, although this does not distort his work to be an epistolary.
CRITIQUE
The publisher should have retained the original title of the book as AWO,by Obafemi Awolowo as this was his popular political acronym.Quality of pictures used in the book can also be improved for the message to have desired effects on the audience.A lot of youngsters will be inspired with a clearer pictures of the author in his law attire on page 139 when he was called to bar.
However, the book is handy and crispy. The picture of the bespectacled authobiographer on the cover with a clenched fist depicts an achiever and goal-getter of the century.The book is both a delight to read and an asset on the book shelf.