Emefiele to focus on reduction in interest rates, unemployment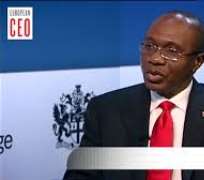 GOVERNOR, Central Bank of Nigeria (CBN), Mr Godwin Emefiele, on Thursday, pointed up the gradual reduction in interest rates and maintenance of exchange rate stability as key issues of that will define his tenure.
According to him, his vision is to run a 'people-centred' central bank that would spur employment generation and support real sector growth.
The governor, who was on his second day in office, spoke during the unveiling of his vision for the apex bank, at a maiden media briefing held at the corporate headquarters of the bank, in Abuja.
n
He also announced that his five-year regime would pursue a zero-tolerance policy on fraudulent borrowers as he hoped to push for the establishment of commercial courts that would see to quick adjudication on loan and related offences.
Also, serial borrowers moving from one bank to another to without having intention of paying back granted loan are in for a hard time, as the Emefiele promised zero tolerance for such fraudulent practices as he hoped to push for the establishment of commercial courts that would see to quick adjudication on loan and related offences.
To achieve the gradual reduction in key interest rates, maintnain exchange rate stability, the governor hopes to strenghten risk-based supervision mechanism, build specific expertise in banking supervision, abolish fees associated with limits on deposits and other measures designed to ensure price and financial system stability.
Emefiele, while highlighting the policy directions, also promised to manage an apex bank 'that is professional, apolitical and people-focused, adding that the apex bank, in pursuit of its zero tolerance policy on fraudulent borrowing, would collaborate with comercial banks to significantly improve the credit culture in the Nigerian banking system.
'The CBN focus will be directed at serial debtors who access loans from diffrent banks and default on all of them, even when they have the means to pay. Going forward, the CBN will work towards reducing the effect of information asymmetry in the credit market,' he stressed.
He said the bank would strenghten the sanction system to include blacklisting of companies and individuals that had been found to be serial loan defaulters, adding that their names would be circulated in the banking system to guide banks in identifying bad borrowers and deny them access to credits in the banking system.
He also said the apex bank would implement stringent loan provisions and penalties for banks that violated the provision, while it would also establish a national credit scoring system that would improve access to information on borrowers and assist to make good credit decisions.
Emefiele said he would start with championing policies that would promote the sustainability of hard-earned macro-economic stability.
Noting that high interest rate creates a pervasive incentive for commercial banks to simply buy virtually risk-free government bonds rather than lending to the real sector, the CBN governor said the bank would carry out a  gradual reduction in interest rates.
To enhance financial access and reduce cost of credit, he said the bank would pursue policies targeted at making Nigeria's Treasury Bills rates comparable with other emerging markets and, by extension, pursue a reduction in lending and deposit rates.
He also announced a commitment to reviewing the current practice whereby all fees associated with limits on withdrawals solely accrued to banks, saying his target was to possibly align rates with what is obtainable in other emerging markets, particularly Malaysia, South Africa, Brazil, India, China and Turkey.
The new governor also announced that the CBN would design a programme for citizens who need as low as N50,000 without collaterals but through registered and accredited local cooperatives. He said the apex bank would encourage venture capital companies and business angels to fund SMEs, even as he invited his former colleagues at the Bankers' Committee to play more active role in supporting SMEs.
Emefiele also announced that to enhance financial access and reduce borrower cost of credit, the CBN would pursue policies targeted at making Nigeria's treasury-bill rates more comparable with other emerging markets and, by extension, pursue a reduction in both deposit and lending rates.
Another significant issue under his administration will be unemployment. The new CBN governor said that the bank would also begin to include the unemployment rate as one of the key variables considered for its monetary policy decisions.
He faulted calls for the devaluation of the naira with an argument that such an action a country like Nigeria, which is largely import-dependent, would trigger in the economy as it would literally translate to considerable inflationary pressure with attendant effect on macroeconomic stability.
In order to sustain the stability of the exchange rate, Emefiele said the apex bank would strive to build up and maintain a healthy external reserves position and ensure external balance.
One of the strategies, according to him, will be to cut down on import bills through various initiatives which would also help boost output both in oil and other sectors, while checking current crude losses. All these strategies, he said, would ensure that more funds come into the government coffers.
The governor also said that the bank would support ongoing initiatives at the ports and secure pipelines that are being vandalised daily, as well as work aggressively with relevant stakeholders to shore up reserves.
He also said the CBN would support the Ministry of Petroleum Resources by looking at investment incentives in refining and promoting investment in the construction of much-needed gas pipelines.
'We will also support the establishment of small-scale modular refineries that can serve some of our domestic markets. We will consider giving priority to the main arteries to the gas-fired power plants,' the governor stressed.
To shore up reserves, he said the bank would engage the fiscal and political authorities and other stakeholders, with a view to improving the policy buffers which will further create space for the CBN to implement monetary policy using limited instruments.
On payment system, he said the cashless policy would be better aligned to take care of customers' complaints in terms of charges on cash deposits, adding that all charges on deposits had been stopped with immediate effect.
He, however, said charges on withdrawal, in view of  their eventual elimination, remained sustained at the current three per cent for individual transaction exceeding N500,000 and five per cent for corporate transactions exceeding N3 million.
On the second aspect of his policy, which he christened Development Banking, Emefiele said additional measures would be required towards identifying productive sectors of the economy and channeling credit towards the sectors, while imposing proper monitoring and performance measures to ensure that the goals of increased employment and poverty reduction were attained.
Unfolding the bank's agenda for development finance, Mr Emefiele said some of the apex bank's functions in this regard would include credit allocations and direct interventions in key sectors of the economy such as power, agriculture, oil and gas and health, among others.
Noting that funding for SMEs in Nigeria had largely been viewed from a social development perspective, with the goal to reduce poverty through job and wealth creation and which has put the responsibility on government, the CBN governor said a business approach for funding SMEs was being proposed.
On agriculture, he said the CBN would revisit the goals and implementation of the intervention programmes to ensure that high value addition was obtained from funds provided.
On primary mortgage institution, Emefiele said the CBN was part of the major stakeholders working on the mortgage refinancing programme, adding that there were things still needed to ensure the success of the programme.
Stressing further on poverty reduction, he regretted that many Nigerians aged 15 to 30 were unemployed, adding that the bank would work to create jobs to resolve the issue.