Ogoni: 14 Years Without Saro-wiwa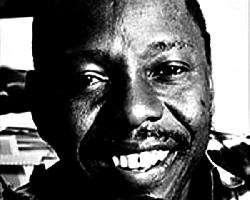 On Tuesday, November 10, 2009, it was exactly 14 years since renowned environmental rights activist, Kenule Saro-Wiwa was hanged to death along with eight other prominent sons of Ogoni in Rivers State.
Others who were hanged with Saro-Wiwa on November 10, 1995 by Nigeria's former maximum ruler, late General Sani Abacha were John Kpuinen, Dr. Barinem Kiobel, Paul Levura, Nordu Eawo, Barobor Bera, Saturday Dobee, Daniel Gbokoo and Felix Naute.
Environmental rights activists across the globe observe November 10 each year as a day of remembrance for this great son of Africa, who paid the supreme price to liberate the people of Ogoni from environmental degradation occasioned by the activities of oil exploration and exploitation firms in Ogoniland.
The Movement for the Survival of Ogoni People (MOSOP) mark November 10, every year in honour of four prominent Ogoni leaders, who were also murdered, though on May 21, 2004, at Giokoo village in present day Gokana local government area of Rivers State in a ploy traceable to the Nigerian state.
They include Chiefs E.N. Kobani, Albert Baddey, S.N.Orage and Thyeophilus Orage.
Ken, as Saro-Wiwa was popularly called and his compatriots were killed by the Abacha military junta for daring to raise awareness on the developmental neglect in the oil-rich Niger Delta region.
As the second President of MOSOP, the internationally acclaimed literary icon dusted up the hitherto docile people of Ogoni through a peaceful non-violence campaign into an active anti-opposition voice.
Saro-Wiwa, while alive decried the impoverishment of his people despite the fact that they stood on the pinnacle of wealth and practically confronted their adversaries, Shell Petroleum Development Company, which had exploited the Ogoni environment for several decades.
It is a sweet story to tell that today,he exploitative Royal Dutch oil giant has been forced out of Ogoniland by the people themselves with commendable support from human and environmental rights organizations as well as organized civil society groups.
Even in death, the withdrawal of Shell from Ogoniland is a dream come true to the late Saro-Wiwa.
The awareness raised by Saro-Wiwa in Ogoniland thus made the people the epitome of minority rights consciousness and the people no doubt received a punitive dose of the brutality over their frontier role.
It remains unarguable that the virtues Saro- Wiwa stood and died for remain the determinant of peace and economic prosperity in Nigeria.
Though, the good people of Ogoni have succeeded in forcing their common enemy, Shell out of their land after preventing the firm from operating its facilities in the area for over 13 years, development still eludes Ogoniland.
The fictionalization of MOSOP, the people's main umbrella body may be a cog in the wheel of both socio-political and economic growth of Ogoniland.
The no-lover-lost situation between Barrister Ledum Mitee and Comrade Goodluck Diigbo, both of whom are laying claim to the leadership of MOSOP is not helping matters at all.
While Barrister Mitee, who assumed leadership of MOSOP immediately after the death of Saro-Wiwa in 1995 alleged that he was re-elected as President at an election held in Decenmber 2008 at Birabi Memorial Grammar School, Bori, Comrade Diigbo, on his own alleged that the people of Ogoni converged at the secretariat complex of Khana local government area, also in Bori on April 16, 2009 and unanimously elected him President of MOSOP.
Both Mitee and Diigbo have one thing in common; both of them served late Saro-wiwa and the people of Ogoni in various capacities during the dark days of the struggle.
Mitee was MOSOP's Vice President when Saro-Wiwa was the President. He was among the Ogoni leaders that were arrested, detained and tried by a kangaroo tribunal in Port Harcourt.
Mitee, however was lucky to have escaped the hangman's rope when the 'Ogoni Nine' were hanged in 1995. He automatically assumed leadership of the organization after Ken's death and remained in that position for close to 14 years.
In 2007, he was elected President of the Unrepresented Indigenous Peoples Organization (UNIPO) while in 2008, President Umaru Musa-Yar'adua appointed him Chairman of the Presidential Technical Committee on the Niger Delta.
On his part, Comrade Diigbo, a United States based environmental rights activist was member, Steering Committee of MOSOP as well as the National President of the National Youth Council of Ogoni People (NYCOP), the youth wing of MOSOP.
NYCOP fought both the federal government and oil giant, Shell and ensured that the dream of Saro-Wiwa, which was to force Shell out of Ogoniland came to fruition.
Diigbo is the current President of Partnership for Indigenous People's Environment (PIPE), a US-based organization that advocates the environmental and fundamental human rights.He went into exile in the USA immediately after the arrest of Saro-Wiwa and other Ogoni leaders in 1995.
It is disheartening that MOSOP,which was at the forefront of the struggle for emancipation of Niger Delta region have been reduced to nothing to a point that no noe could easily identify the authentic and widely recognized MOSOP.
Today, our dear MOSOP Has two factional but functional secretariats; One operated by the Mitee faction in Port Harcourt while the Bori office of MOSOP is manned by Diigbo's faction.
Right now, the Ogoni Peace and Freedom Centre, located in Bori, the headquarters of Ogoniland seem to have been abandoned due to the absence of peace among Ogoni elites. The ground-breaking ceremony of the centre was performed over five years ago by former President Olusegun Obasanjo
One cannot be made to believe that the centre, whichis expected to be a symbol of peace and unity in Ogoniland was abandoned because of funds as governments both Rivers and Bayelsa States as well as prominent sons of Niger Delta made meaningful contributions towards the construction of the edifice.
Time has come for all peace lovers to cal these two prominent sons of Ogoni to order to bring to an end this battle of supremacy between them.
Affiliate bodies of MOSOP, including MOSOP-USA,MOSOP-UK, the National Union of Ogoni Students (NUOS) International should step in to stop the slow death of their once cherished organization.
As Mitee and Diigbo continue to battle for supremacy in MOSOP, it is the down-trodden people of Ogoni that suffers most and this is not part of what Saro-Wiwa fought and died for.
|
Article source