GREAT BLOW, AS STAKEHOLDERS PAY TRIBUTES TO DECEASED ADMINISTRATOR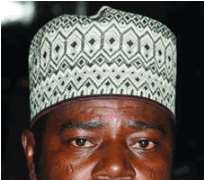 Galadima
Chairman of Kaduna United FC, Hon. Sabo Babayaro, has described the death of the deceased Nigeria Football Federation (NFF) Executive Committee member, Alhaji Alili Galadima, as a huge loss to the entire football fraternity in the country.
Babayaro sympathised with the family of the late Dr Galadima, who passed on penultimate Friday on his way to Niger Republic. He said the late Galadima would be missed by all stakeholders in Nigerian football for his immense contribution to the country's football, especially his transformation of football in Jigawa State and in the North in general.
"It's a sad news. Alili Galadima's death came as a shock to me and so it would be for every Nigerian football lovers. I still recall how he transformed football in Jigawa State when he was the state's FA chairman. We can't also forget how well he represented his zone as a member of the NFF board.
"Galadima left us when we needed him most in Nigerian football, but who are we to question God? We can only pray that Aljannah Firdausi should be his home of rest," Babayaro said.
Also a former Super Eagles' player, Abdullahi Hyman said Galadima paid his dues while he was alive as a football administrator. He brought development to the game as a legacy that will continue to live after him," said Hayman. In the meantime, the remains of the deceased was buried in his hometown of Gumel penultimate Saturday night.
Galadima, holder of the respected chieftaincy title of Ajiyan Gumel, was on his way to Niamey for last weekend's African Nations Championship (CHAN) qualifier between Niger Republic and Nigeria before his Jeep somersaulted on Friday evening close to Niamey.
The 47-year old, was also the chairman of the Independent Electoral Commission in Jigawa State. His remains and those of two other persons, who died in the crash, as well as his injured driver, Police orderly and one man who was unhurt, were conveyed to Kano on Saturday evening aboard a Nigerien military aircraft.
Deputy Governor of Jigawa State, Alhaji Ahmed Mahmoud Gumel, top government functionaries in Jigawa and Kano states, NFF President, Sani Lulu Abdullahi, NFF Executive Committee members – Shehu Adamu and Dominic Iorfa, the General Secretary, Bolaji Ojo-Oba, his deputy Musa Amadu and Head of Marketing, Idris Adama, were there to receive his remains.
Also on hand were NFF's spokesman, Ademola Olajire, Personal Assistant to NFF president, Suleiman Yusuf and Personal Assistant to secretary general, Christian Emeruwa.
Galadima, who was married with two wives and 10 children, was the vice chairman of the NFF's Marketing Committee.
The convoy moved to Gumel on Saturday night and was joined by more vehicles waiting at the City Gate, while thousands of people lined the route into the city to bid farewell to an illustrious son. His remains were first taken to the Emir's Palace before his internment.
In his condolence message, the NFF President, Sani Lulu said: "In life, the late Alhaji Galadima was an easy-going, amiable and respectable individual, who carried out his duties with diligence, honour and sense of responsibility. In three and half years as a member of the NFF's Executive Committee, he made friends everyday with his display of selflessness, candour, tact and vision."
Late Alhaji Alili Galadima founded and funded National League club, Ajiya Babes of Gumel.