Statement by the Minister for Foreign Affairs of Japan on the Election of a new President in Egypt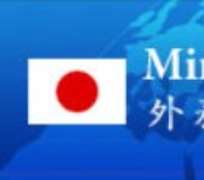 TOKYO, Japan, June 5, 2014/African Press Organization (APO)/ -- 1. The Government of Japan regards the election of H.E. Mr. Abdel-Fattah El-Sisi to the new President of Egypt by the result of the presidential election conducted from May 26 to 28, 2014, as an important step towards political normalization in Egypt based on the Road Map and congratulates on this.
2. The Government of Japan expects that under the leadership of the new president, H.E. Mr. El-Sisi, a democratic society will be developed through proper implementation of the Road Map with wide range of Egyptian people's participation in parliamentary election and other democratic process and thus stability and prosperity of Egypt will be achieved.
3. The Government of Japan will continue to support Egypt's efforts for establishment of a democratic society and realization of economic and social stability.