Bolanle Kuku: A New Paradigm Shift In Political Participation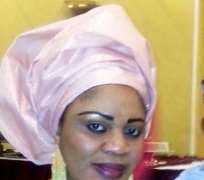 Empirical evidence shows that over the years women have been relegated to the background in politics and the overall development, especially in the developing nations like Nigeria. This is borne out of the sentimental attachment on feminine gender.
Also, historical evidences are available to prove that the Nigerian women have for long been playing crucial role in political life of the country, and this has contributed in no small measure in shaping the political system of the nation. For development of any kind to be successful, a vantage position should be accorded the women, as they constitute larger proportion of the population. In this regard, they should not be left out in the issues of decision making that bothers even on their lives as a people.
Today, women are participating more actively in political issues than ever before as a result of political re-awakening and awareness. More often than not, they are besieged with challenges of which discrimination is more rife. Majority of the men more on chauvinistic disposition are preoccupied with the notion that decision making is exclusively for the men folk while women are to be instructed on what to do. This idea of seeing the women playing second fiddle at homes has come to play itself out in the political life of the people. And this ought not to be so with regards to the ever dynamic nature of things globally, as women are now seen in other communities as avant-garde in developed nations. It is surprising that the same mindset of yester years is still what is obtained in our country.
Despite the difficulties faced by women in politics, they continue with their political ambition, contributing enormously to the political and national development in their own way as the challenges militating against them are not present, although Nigeria is yet to have a female president. Women over the years could be said to have recorded some measure of appreciable political achievement in other political fields of endeavors, meeting their political objectives with limited support and resources at their disposal.
In 1957 during the pre-independence era of Nigeria, a couple of women political activists such as, Mrs. Margaret Ekpo, Mrs. Janet Mokelu and Ms. Young were members of the Eastern House of Assembly. The late Mrs. Funmilayo Ransome-Kuti, though not a full-fledged politician, was a very strong force to reckon with in the politics of the Western Region. And Hajia Gambo Sawaba waged a fierce battle for the political and cultural emancipation of women in the North. One can say that women have always played viable political roles in Nigeria in spite of all the limitations and encumbrances.
The Babangida era marked a turning point in the history of women struggle in Nigeria, when Maryam Babangida institutionalized the office of the First Lady in 1987. She became the first working First Lady and launched the "Better Life for Rural Women" program. Other women who have made impact in the country's political scene include, Mrs. Ngozi Okonjo Iweala minister of finance, who saved the nation records of billions of Naira as a result of her hard working nature as a public officer. Mrs. Obi Ezekwesili also laid a land mark in the history of Nigeria politics. Prof. Dora Akunyili, the former NAFDAC boss has also performed credibly; leading the fight against adulterated pharmaceutical drugs, her name can never be forgotten in the annals of history. There are myriads of women in politics even presently that have done very well and are still performing excellently well.
However, the last 2011 polls dealt women a devastating electoral blow, especially at the National Assembly. The political mileage women recorded between 1999 and 2007 was eroded that year. The 2007 polls witnessed a slight increase in the number of women in the Federal legislature. In 2003, the percentage of females was 2.7 per cent for the Senate and five per cent for the House of Representatives. In 2007, the figure rose to 8.25 per cent in the Senate and 7.22 per cent in the House.
At a time observers are saying that the increments were a far cry from the 30 per cent affirmative action prescribed by the International Women's Conference in Beijing, China in 1985, the figure has gone further down in 2011. Only seven female Senators (7.63 per cent) and 19 Reps (5.28 per cent) were elected in 2011 as opposed to nine senators and 25 Reps that sailed through in 2007. Out of those elected in 2007, only three female senators and 11 Reps were re-elected in 2011.
In spite of women's topsy-turvy march in the National Assembly, most of those elected are women of substance, who are expected to play critical roles in the affairs of the Seventh National Assembly. At present in the seventh Assembly, notable among the women who are shaping events in the Federal legislature include Senators Chris Anyanwu, Zainab Kure, Nkechi Nwaogu, Nenadi Usman, Mrs Oluremi Tinubu, Helen Esuene and Aisha Jummai Alhassan.
In the House of Representatives, the women include Hon. Abike Dabiri, Mulikat Adeola-Akande, Nkiru Onyeagocha,Uche Ekwunife, Nnena Elendu-Ukeje, Olajumoke Okoya-Thomas, Beni Lar, Khadija Bukar Abba-Ibrahim, Elizabeth Ogbaga, Peace Uzoamaka Nnaji and Juliet Akano. There are also Maimunat Adaji, Suleiman Oba Nimota, Folake Olunloyo, Martha Bodunrin, Betty Okogua-Apiafi, Rose Oko and Nkoyo Toyo among others.
However, in a bid to reduce men's huge domination in the political affairs, women of substance across the North and South pole of Nigeria have resolved to call for a paradigm shift in order to significantly increase the percentage of their participation, especially in the coming 2015 elections.
In Ogun State for example, a female aspirant, Bolanle Kuku is leaving no stone unturned to pursue her political dream to win Ogun East Senatorial seat in 2015. Bolanle Kuku is a seasoned and renowned medical expert with meritorious and indelible records in United States of America. She is currently an executive director of Nursing at the Jewish Community Cooperation, New Jersey Branch, USA. She had her first degree at Raritan Valley College, BSc. (Registered Nurse), while her Doctorate Degree in Nursing Administration at Chamberlain College of Nursing, U.S.A 'is still in view'.
Bolanle Kuku is an unassuming, courageous, affable and dependable woman, her involvement in politics dates back to the 90s. She was a member of defunct Social Democratic Party (SDP), Alliance for Democracy (AD), Action Congress (AC), Action Congress of Nigeria (ACN) and presently a card-carrying member of All Progressives Congress (APC) both in Ogun State and in the United State of America (USA). Her consistent contribution to human capital development, capacity building and various empowerment programs at the grassroots has earned her various leadership awards in appreciation of her efforts.
To her credit she is a member of Progressive Nigerians in America, International Women's Forum (IWF), Yoruba Community Forum USA, Southwest Women for Good Governance, Asiwaju Grassroots Foundation Ogun State Chapter. Besides, Mrs Kuku is equally a member of APC Women Forum USA, member, Women in Politics, member, Nurses Service Organisation (NSO), American Nurses Associate (ANA), member, National Council of State Boards of Nursing (NCSBN) and Founder, Bolanle Kuku Charity Foundation, to mention a few. Suffice to say Bolanle Kuku's intimidating profile, track records, and her sincere passion for the much needed change required in our body politic will surely foster quality representation at the hallowed chamber of the Senate, good governance, accountability and genuine participation expected of a Federal lawmaker, if she eventually wins.
Tokunbo Olajide is a chartered accountant,
wrote from Ijebu-Ode, Ogun State, Nigeria.
Disclaimer:

"The views/contents expressed in this article are the sole responsibility of

Tokunbo Olajide

and do not necessarily reflect those of The Nigerian Voice. The Nigerian Voice will not be responsible or liable for any inaccurate or incorrect statements contained in this article."