Senator Ojudu Dares Mbu, Stages #BringBackOurGirls Protest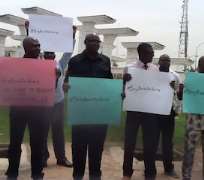 In defiance of the order by the Federal Capital Territory Commissioner of Police, Joseph Mbu, not to stage protest in Abuja, Senator Babafemi Ojudu on Tuesday, dared Mbu as he staged a peaceful #BringBackOurGirls protest at Unity Fountain in Abuja with his aides.
Mbu had on Monday chased away some protesters calling for the release of over 200 girls abducted from the Government Secondary School, Chibok in Borno state by the Boko Haram terroristssect.
However, Senator Ojudu in company of his aides  stormed Unity Fountain, saying the order by CP Mbu is illegal.
He said banning of protest is an infringement on people's right.
Ojudu who warned Mbu not to repeat what he did in Rivers State in the FCT, said that the protest will continue until government takes necessary steps to bring back the abducted girls.
He added that if not for the protests by various groups, especially women groups, the whole world would not have been aware of the issue.
He said the protest has attracted attention of countries like China, United Kingdom, United States of America (USA) and France among others.
Meanwhile, the Police High Command has announced that the Force has not issued any order banning peaceful assemblies/protests anywhere in Nigeria.
It notes, however, that against the backdrop of current security challenges in the country, coupled with a recent intelligence report of a likely infiltration and hijack of otherwise innocuous and peaceful protests by some criminal elements having links with insurgents, the Police only issued advisory notice, enjoining citizens to apply caution in the said rallies, particularly in the Federal Capital Territory and its environs.
Reminding citizens of the earlier position of the force on peaceful rallies, which the Police High Command regards as the constitutional and democratic rights of Nigerians, the Inspector-General of Police,Mohammed Abubakar,stressed the need for the organizers of such rallies to ensure that they seek proper advice and guidance from the police before engaging in any such exercise so as to avoid any unpleasant circumstances.
The IGP calls on the general public to see the present position of the Force as a necessary sacrifice for the peace our nation needs, as security is a collective responsibility.
'Consequently, citizens are strongly advised to reconsider their positions on the issues of rallies and protests in FCT until the existing threats are appropriately neutralized and removed from our midst by relevant security agencies,' the police said.