Fani-Kayode dumps APC for PDP, says APC has Islamic agenda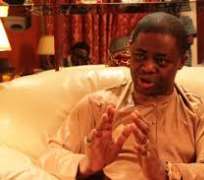 Former Minister of Aviation, Femi Fani-Kayode, has made good his long anticipated defection from All Progressives Congress to the ruling Peoples Democratic Party, hinging his action on the Islamic agenda of the opposition party.
The first indication of the move came a few months ago when the former minister, who hitherto was a stringent critic of President Goodluck Jonathan, visited the president in the State House Abuja.
It was speculated then that the President may be putting him forward as the anchor man of the communication machinery of his campaign ahead of 2015 elections.
Kayode also accused APC being intolerant and insincere.
A statement by the former minister described the spokesperson for the party, Alhaji Lai Mohammed, as a liar - for allegedly saying that he (Fani-Kayode) never joined the party.
Mohammed did not pick the calls made to his lines by our correspondent.
The statement by Fani-Kayode read in part, 'I have stated these facts and set the record straight - due to the fact that Alhaji Lai Mohammed, the spokesman of the APC, had the effrontery to say in an interview with a magazine earlier today, that I was never a member of the APC and that I never joined them formally. The truth is that Mohammed is not only a liar but he is also a coward.
'I cannot remain in a party where a handful of people that have sympathies for Boko Haram and that have a clear Islamic agenda are playing a leading role.
'This is made all the more untenable when some of those people are working hard silently and behind the scenes to impose a Muslim/Muslim ticket on the party for the Presidential elections next year.
'I cannot be in a party where a few of its leaders are more interested in playing politics with the whole Chibok issue and hurling bricks at our military for not doing a better job. I cannot be in a party in which the role of one of its governors is not clear on the Chibok issue.'