Ekiti 2014: Group Accuses Chief Judge Of N200m Bribe To Stop Fayose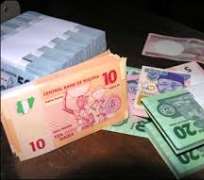 The Ekiti Movement for Good Governance (EMGG) has accused the Chief Judge of Ekiti State, Justice Ayodeji Daramola of a promise of N200 million bribe from the State Governor, Dr Kayode Fayemi and All Progressives Congress (APC) candidate in the June 21 governorship election to stop the Peoples Democratic Party (PDP) candidate, Mr Ayodele Fayose from contesting the election, using 'kangaroo court order.'
The group alleged that 'after Justice Monisola Abodunde declined to sit on the cases brought against the candidature of Fayose by one Mr Adeniyi Ajakaiye, believed to be sponsored by the E-Eleven and another one against PDP by Citizens Peoples Party (CPP) against Fayose, other judges in the State judiciary that were approached by the Chief Judge also declined to sit on the suits, thus prompting the Chief Judge to decide to sit on the cases despite that they are Federal High Court cases.'
In a release issued on Monday, by EMGG and signed by its Secretary, Dr Abiodun Aina, the group called on the Chief Justice of Nigeria (CJN), Justice Aloma Mariam Mukhtar to call Justice Daramola to order, saying his actions on cases concerning the Ekiti State governorship election have betrayed his bias in support of the APC.
The EMGG, which described the APC sponsored court cases as suspicious, said; 'Even a layman knows that State High Courts do not have jurisdiction in suits involving Federal Agencies. In this case, the Independent National Electoral Commission (INEC) is a party, and it can only be for ulterior motives for the cases to have been filed at the Ekiti State High Court, instead of the Federal High Court, Ado-Ekiti, and the Chief Judge would want assume jurisdiction.
'We are aware of the frantic efforts made last night by the Chief Judge of Ekiti State to get another judge to sit on the cases when it became obvious that Justice Abodunde had declined. It was when all the judges refused to accept the cases that the Chief Judge was prevailed upon by Governor Fayemi to assign them to himself.
'The Chief Judge was promised a sum of N200 million, a house in Accra, Ghana and another house in London. A sum of N50 million and a house in Ghana are to be given to the Chief Judge immediately an order stopping Fayose from contesting is granted while the remaining N150 million is to be paid should the Chief Judge runs into trouble with the National Judicial Council (NJC). The N150 million and a house in London are to serve as his retirement benefit.
'Nigerians, especially Ekiti leaders are therefore put on notice on the involvement of the Ekiti Chief Judge in the 'stop Fayose by whatever means' plot, bearing in mind that should Ekiti State be thrown into chaos, he (Justice Daramola) should be held liable,' EMGG said.